Free Blessing CEO, arrest me instead – Lady berates police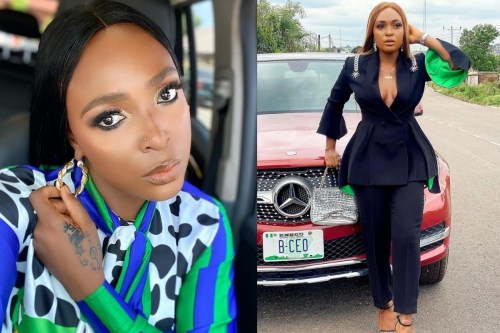 A Nigerian lady recently demanded the release of Blessing Okoro, popularly known as Blessing CEO, a jailed self-styled relationship coach and social media influencer.
Okoro was sentenced to prison on April 1, 2023, for allegedly cyberbullying Folashade Samuels, the sister of late Bimbo Ogbonna, wife of auto dealer IVD.
A woman who has yet to be identified protested her release in a viral video. The lady requested that the authorities arrest and detain her instead of the socialite.
Bearing a placard that reads "Free Blessing CEO," the lady said: "I call upon you Nigerian Police, free Blessing CEO. She did not commit any crime. She needs to go to the hospital. She needs to go for a check-up. She needs to treat her ass. Free Blessing CEO. You can come and arrest me and free Blessing CEO."
The lone protester claimed that the celebrity is being unjustly detained, adding that there is freedom of speech in Nigeria.
In the meantime, social media influencer, Queen Rita, claimed the reason Blessing CEO is still in detention is that she was unable to meet her bail conditions.
According to her, she was granted bail of N10 million naira and two sureties in like sum. But two weeks after she was reportedly granted bail, she is still in detention.