Trouble looms as Celestial prophet gives Ibiyeomie 14 days to apologize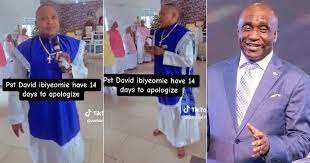 A certain celestial prophet has called out David Ibiyeomie, founder and senior pastor of Salvation Ministries, over his recent remark about white garment churches.
Last week, Ibiyeomie stirred up a hornet's nest after he gave his opinion about the Celestial Church of Christ.
During a sermon, the cleric argued that people will never like such churches if they know what they do.
"Do you know why I hate white garment churches, people don't know why I hate them. if you know what they do you will never like them," Ibiyeomie had said.
"They can take your surname and put it inside a bottle of gin and make incantations.
"That's how they do it. All these yeye prophet. They will take the name of somebody and put it inside the local gin and read all those demonic Psalms in it."
His comment has continued to provoke controversy across social media platforms.
Joining the fray, the celestial prophet asked Ibiyeomie to apologise for his contentious remark against the white garment churches.
In a now-viral video, he also gave Ibiyeomie 14 days to make the apology, adding that he will "incur the wrath of God" if he failed to do so.
"I am saying that I want to speak to Mr or Pastor David Ibiyeomie, I am a Bonafide celestial prophet," he said.
"But what he said to we the celestials, he really made a terrible mistake and as a man of God, we are expecting him within that 14 days that supreme evangelist speak
"If he did not, this is not a word of threat, he will visit our God."