Kenyan lady stirs reactions; displays 'Davido's boxers' during interview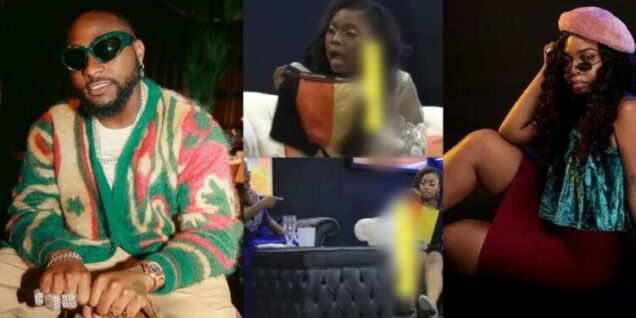 A Kenyan woman known as Pendo Stacy attacked Davido in a new video that has gone viral on social media as the turmoil around baby mamas was going on.
Pendo Stacy was seen in the video smugly exhibiting a pair of boxers that she said belonged to Davido.
Kenyan video starlet Pendo Stacy claimed that she had a sexual experience with Davido in 2014.
Pendo Stacy displayed the boxers while she was on a talk programme, claiming they were proof of her relationship with the well-known artist.
Their meeting allegedly occurred at the 'Galileo' nightclub in Nairobi, Kenya, when Davido was in town to perform at the 'Bombaata Festival.'
Pendo Stacy's bold move to showcase the boxers has intensified the ongoing discussion surrounding Davido's personal life and relationships.
First, it was Anita Brown, who took to social media with the claim that Davio impregnated her.
Ivanna Bay, a French woman, joined the conversation shortly after, declaring that she is also carrying Davido's child.
The allegations from these ladies have set the internet on fire.
Below are some of the funny comments on social media.
@taullest tweeted: "So Idan left without boxer. cook-a-thon."
@1Ayanfe tweeted: "Idolo boxers look like him Maybach"
@oluwatoyin0 tweeted: "If you are pregnant or have chop Davido work come out now let talk things out, if u come later we won't attend to you anymore Oya o our time is now…"