Mystery illness: Jamie Foxx to address fans "when he's ready" – Nick Cannon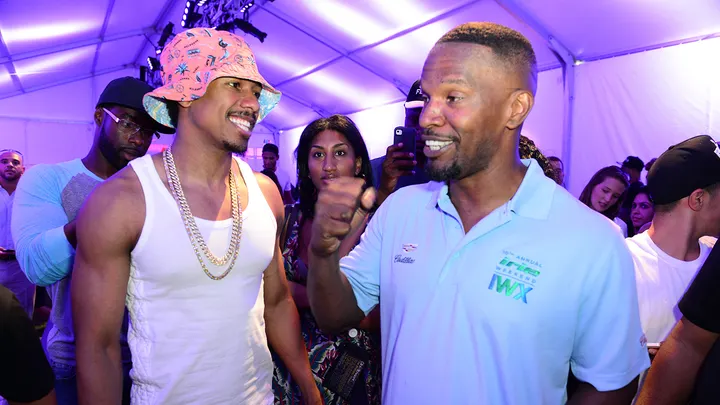 Jamie Foxx, according to Nick Cannon, will update fans on his health scare that sent him to the hospital in April "when he's ready."
"One thing I've always respected about how Jamie's moved throughout his entire career, if you've noticed, he's always been somebody who is extremely professional and extremely private," Cannon told "Extra's" Billy Bush.
"I mean, you don't ever really hear anything other than just the great work that he puts forth as a professional and the fact that, you know, he's handled this situation with the same manner, you only can respect that," said Cannon.
He went on to add, "I believe when he's ready, he's going to address the awaiting fans in the world [about his health scare] the way that only he can."
Bush questioned Cannon about rumours that Foxx had a stroke and asked if he could provide an update on the actor's health. Foxx's family has kept his health status a secret.
"I'm probably in the same boat as you in that same sense of just knowing that, you know, as a friend, just being as respectful as I can, I don't pry," Cannon answered. "I don't ask any other questions. And other than the information that's given to me and, you know, what's asked of me."
He said the information that his family has put out "is the information that they want to be out there."
"I was definitely one of those people initially with like the heavy-handed prayers… sending positive energy, love, and prayers," he added. "And they were like, 'Yo, we appreciate all of that, but we got it.' And, you know, Jamie's happy with the job that I did on 'Beat Shazam.'"
After the 55-year-old was admitted to the hospital in April, Cannon replaced Foxx as the guest host of the musical game show "Beat Shazam." Corinne Foxx's daughter was given over to Kelly Osbourne as the disc jockey.
Foxx broke his silence at the end of April, writing on Instagram, "Appreciate all the love!!! Feeling blessed."
In mid-May, his daughter Corinne Foxx gave an update on Foxx's condition, writing on her Instagram story at the time that her father has been "out of the hospital for weeks" and is "recuperating" – and even playing pickleball.
In a since-deleted Instagram post, Corinne shared on April 12 that her father experienced a "medical complication" the day before, and "quick action and great care" helped guide him toward recovery last month.