BBTitans winner, Khosi speaks on time in the house, game plan, and future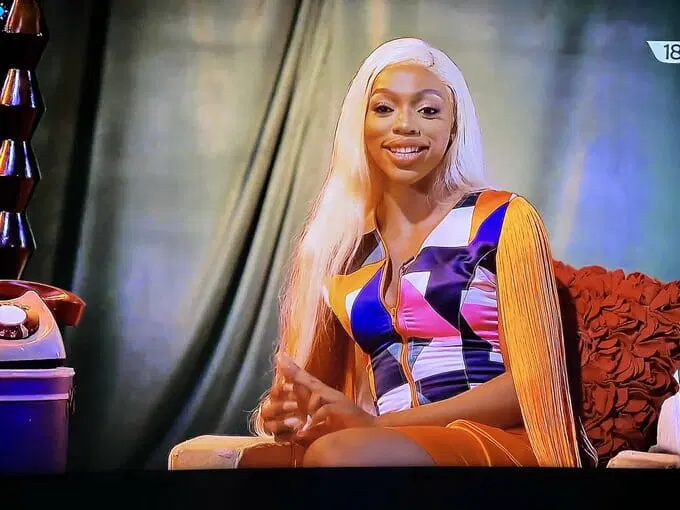 The Big Brother Titans show has come and gone, leaving in its wake a new winner, Makhosazane Twala, popularly known as Khosi. Khosi emerged the winner of the maiden edition of the reality TV show, defeating several other contestants in the process. In this interview with TOFARATI IGE, Khosi talks about her time in the house, her game plan, and future plans.
TOFARATI: How do you feel becoming the first winner of the Big Brother Titans?
KHOSI: It still feels so unreal. I think I need to pinch myself. I am still in shock but trying to take in everything. Even if someone had told me in the sixth week of being in the house, I wouldn't have believed them.
TOFARATI: It has been said that you had a game plan before going into the house. How much of you in the house was your real persona or a façade to execute your strategy?
KHOSI: That is what confuses me all the time. I don't understand the game plan people thought I had; I will actually like to know what it is. Before going into the house, I just wanted to be that girl that gets along with everyone. I thought I was a nice girl, who had a nice personality that everyone could 'vibe' with. But when I got into the house, that was not the case. So, I just had to be myself. I figured that people already had their opinions about me. I figured that if people were going to have opinions about me, they should be the right ones. It was because of that I kept to myself. However, I was surprised when after the competition, everyone kept talking about the strategy they thought I had. I actually did not think I would win the competition. Especially towards the end of the show, everything I exhibited was all me.
TOFARATI: What was your motive for going into the Big Brother Titan house?
KHOSI: When it comes to my motive, that could be a little tricky. I honestly did not think I was going to make it. I was practically just 'shooting my shot' (giving it a try). I just wanted to see how far I could go.
As far as Big Brother is concerned, it is more about what one makes of the opportunity the platform gives one. As big as the show is, it is up to individuals to make the most of it. As a matter of fact, even Kanaga (first runner-up) could make it bigger than me outside the house if I don't make good use of the opportunity. I already have certain things I plan to do, and I intend using this huge platform and the benefits that come my way to achieve them.
TOFARATI: In what ways are you looking to impact the lives of your fans positively?
KHOSI: In 2017, I started a non-governmental organisation to give back to society. At that time, I was helping homeless people, and going to home shelters to show love. However, at some point, I realised that it was not sustainable because I was just giving and giving. I needed to find a way to give something to people that they would be able to use even when I am not there. I understood that I needed resources. And, now that I have this platform, which was brought to me by people, I think the best thing to do now is to focus on my organisation, and help as many people as possible.
TOFARATI: You had a number of connections in the house. Is that who you really are, or it was just a game?
KHOSI: Yes (that is who I am). It is very different when one is in a confined space like that, but I am going to be honest with you— if I had one connection and that person gave me one hundred per cent of themselves, I would have just been with that one person, and not look elsewhere. However, that was not the case. I felt like the people I connected with did not give me their one hundred per cent. At some point, it seemed like it was just a game plan for them, because I seemed to be putting in more effort for the relationships. Later, I felt that if I was going to do that, it should be a fair play. And, for some reason, I am a master at that game.
TOFARATI: As a journalist, you used to interview people before going for the competition. How does it feel to now be interviewed?
KHOSI: It hits different because I was always the one behind the microphone, asking the questions. But suddenly, I am the one that is being asked questions. The good things about that is the fact that I understand how these things work. If I did not, perhaps, I wouldn't be as patient as I am with interviews. I know that any journalist interviewing me is just doing their job, and they have to ask me certain questions. Because I have been on both sides, I should take off like a rocket.
TOFARATI: Talking about charity, considering you rose to fame and got the money on a platform backed by Nigerians and South Africans, how do you intend to cater to your Nigerian fans?
KHOSI: I have always said this, especially with Blaqboi (a Nigerian housemate). He really extended an olive branch to me, that if I needed anything in Nigeria, I should reach out to him. I had always said that whatever I do in South Africa will be replicated in Nigeria, so he told me not worry, that he would be on the ground for me. Kanaga (another Nigerian housemate) also loved the idea. He told me that if I needed any help, he would be there for me.
My plan is to touch the whole of Africa. Obviously, I cannot everything all by myself. I am hoping that these opportunities will open certain doors for me, and I will be able to forge strong partnerships. I want my foundation to someday be one of the leading humanitarian organisations in Africa.
TOFARATI: How mentally prepared are you for the attention and fame that comes with winning the show and being $100,000 richer?
KHOSI: I had been trying to prepare myself for it from the day I walked into that house, because I did not know how soon I was going to leave. I could have left in the first or second week, I had to prepare myself even before entering the house. But, not being the favourite of other housemates, I thought that the situation outside of the house would be worse (and viewers wouldn't like me).
Also, the thing about Big Brother is that he does not just let you go. There are people one can talk to, who will prepare one for what lies ahead.
TOFARATI: As a journalist, what are some of the annoying things celebs do that you have vowed not to repeat?
KHOSI: It is so weird, because I was not an entertainment journalist. The company I worked for did not care about celebrity lifestyles.
However, people, including me, sometimes forget that celebrities are also human beings. Before, whenever I saw celebrities being rude to people, I used to feel that if they were not in good moods, they should not have left their houses. But now that I am here, I don't think that is realistic.
Because of how grateful I am for winning the show, I think I will try my best to relate well with my fans.
Meanwhile, I know it will also be tough, if not impossible, to know the people who genuinely like way. So, I might have to also 'vibe' with people who hate my guys.
TOFARATI: What do you have to say to the people who voted to keep you in the house and win the show?
KHOSI: The first thing I'll ask them is why did they vote for me (laughs). Many people in the house wanted me out of the competition every week, but the viewers kept voting to keep me in there. I love them all!
In conclusion, Khosi's victory in the Big Brother Titans show is a testament to the fact that with hard work, dedication, and perseverance, anything is possible. Khosi's plans to use her platform to achieve her dreams serve as an inspiration to young people all over the world. We wish her all the best in her future endeavors.