Nigerian singer David Adeleke popularly known as Davido has announced that he will be releasing a new album titled "Timeless," following his absence from social media and the music scene after the tragic death of his son, Ifeanyi.
The news of Ifeanyi's death shocked Davido's fans and the entire music industry. The young boy, who was just three years old, passed away in October 31 2022. Since then, Davido has taken a break from social media to grieve and spend time with his family.
However, in a recent Instagram post, Davido shared a video of himself with a touching caption, "There is a time for everything. A time to Grieve and a time to Heal. A time to Laugh and a time to Dance. A time to Speak and A time for Silence.
Thank you to everyone out there for your love and support that has held me down. All the love and messages while I was away, the gifts sent, the concerts you all threw! I appreciate it all. Today, I want to remind you all that what is now Timeless, was once new. It's time for new.
My next album TIMELESS is here, March 31st. Pre-save link in bio."
The post revealed the album's title, "Timeless," will be released on 31 March 2023, exactly five months after his son's death.
The announcement of a new album has been met with excitement from Davido's fans, who have been eagerly anticipating new music from the talented artist. "Timeless" will be Davido's fourth studio album, and it is expected to be a masterpiece.
Davido is known for his unique blend of Afrobeats, pop, and R&B, and he has collaborated with some of the biggest names in the music industry, including Chris Brown, Nicki Minaj, and Lil Baby. His previous albums, "Omo Baba Olowo," "A Good Time," and "A Better Time," have all been critically acclaimed and commercially successful.
The title of the new album, "Timeless," suggests that Davido is aiming for his music to stand the test of time. It is a bold statement, but given Davido's track record, it is not impossible.
Davido's announcement of a new album titled "Timeless" is exciting news for his fans and the music industry as a whole. We look forward to hearing what he has in store for us and wish him all the best as he continues to heal from his loss.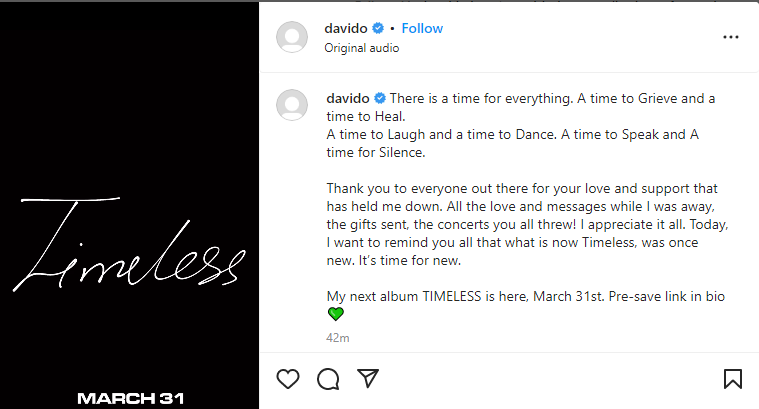 Recall that controversial journalist Kemi had revealed that the singer Davido was working on a new album, however, she came under fire as fans termed her reveal as insensitive, owing that the music star was still "mourning".