Another chef begins 150-hour cook-a-thon to break record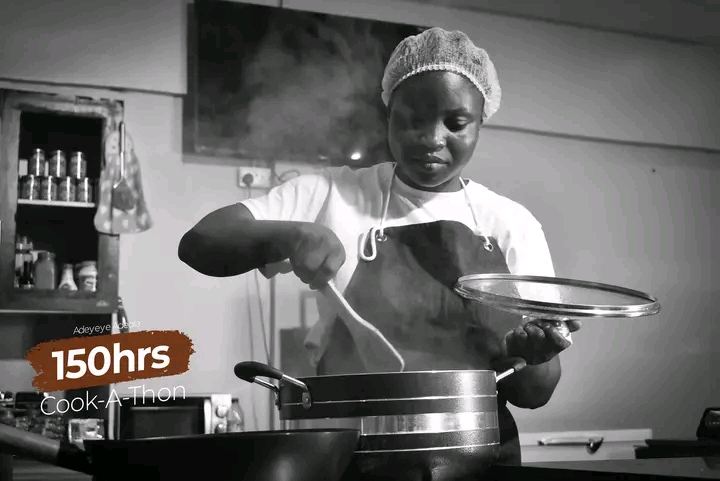 Adeola Adeyeye, a chef from Ondo State, has begun a cooking marathon in an attempt to set a new Guinness World Record.
Adeyeye began her cook-a-thon on Friday in Ondo State's Ile-Oluji/Okeigbo Local Government Area. She is set to finish on Thursday, July 6, 2023.
This comes after another chef, Damilola Adeparusi, commonly known as Chef Dammy, completed a 120-hour cook-a-thon in Ekiti State's Oye Local Government Area.
Guinness World Records did not recognise Adeparusi's accomplishment last month because she did not apply to the body before kick-off.
She also confirmed she did it just to showcase her skills to the general public. Adeparusi, a 26-year-old student at the Federal University, Oye-Ekiti, plans to cook this July for the world records.
Chef Hilda Bassey, popularly known as Hilda Baci, currently holds the Guinness World Record for the longest cooking marathon.
The Akwa-Ibom cook's record-breaking attempt took place from Thursday, May 11 to Monday, May 15, during which she cooked over 100 pots of food over four days.
In an official statement on its website, the Guinness World Records confirmed Hilda Baci as the record holder for the longest cooking marathon (individual), with an impressive time of 93 hours and 11 minutes.
The GWR in a statement on its website, said, "Following a thorough review of all the evidence, Guinness World Records can now confirm that Hilda Effiong Bassey, better known as Hilda Baci, has officially broken the record for the longest cooking marathon (individual), with a time of 93 hours 11 minutes."
While Adeparusi's effort was met with criticism, it remains to be seen how Nigerians will receive Adeyeye's effort.