How late singer, Sound Sultan fed and clothed me – Spyro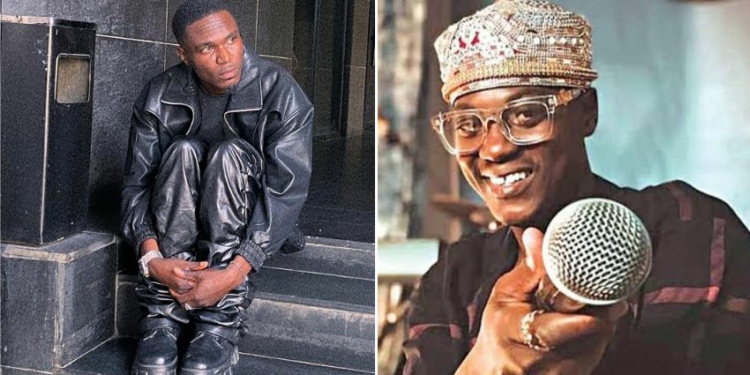 Oludipe Oluwasanmi David, popularly known as Spyro, a fast-rising sensational Nigerian singer, has opened up about the late veteran singer, Sound Sultan's influence in his life.
Recall Sound Sultan died in July 2021, at the age of 44, after a long battle with Angioimmunoblastic T-cell lymphoma.
Spyro described how Sound Sultan housed, fed, and clothed him in his early days.
The 'Who Is Your Guy?' singer revealed this while paying tribute to the late singer on his Instagram page, and expressed regret that the 'Jagabantis' crooner is no longer alive to see his success.
Spyro said he would forever be grateful to the late singer for his mentorship, stressing that his success story cannot be complete without him.
Sharing a photo of the late singer, Spyro who just bought two mansions for himself and business partner wrote:
"I miss you mentor…I cannot count my blessings without you.
Today thoughts of how you fed me, clothed and accepted me when nobody did, came rushing back. I remember a night we were to go to an event and as usual I came so unkempt and fashion-less but while others laughed at me, you went up to your room and brought your cloth down for me to wear.
"I wish you were here to see all that is happening. I remember how I would always tell you I would make you proud and it's sad you ain't here now. Thank you for all you taught me and did for me. Till we meet again, rest in power Sound Sultan."
ER recalls how the budding Singer prayed for his audience who may be passing through similar situations as he did in the past, trusting God to change their stories. He said:
"It's really amazing what God can do in a man's life. I remember a couple of months, I was broke, and I was disappointed in life. I felt like, is this dream of mine ever going to come true?
"I will enter into peoples' DM to beg for help. And I was literally begging for help in real life. I'll call my friends on phones Kunle, Christian, Korede just for money to eat.
"Things were that bad and it makes me feel a lot of people are going through the same situation or similar situations. Which is the reason why I always want to take every opportunity to pray for people.
"I pray for whoever is listening to me today, God is going to give you a life-changing testimony. He is going to change your life in a manner that you cannot even comprehend. Like, He's going to boast with your life.
"I'm still in shock at what God is doing in my life and I extend that same grace to you. If he can do it for one, he can do it for all. Believe and you'll see it, in Jesus name we pray; Amen!"