Folarin Falana better known by his stage name Falz, a well-known Nigerian musician and actor, has alleged that Sanwo-Olu, the governor of Lagos State, was chosen rather than elected.
This was stated by the singer in response to the governor's tweet of gratitude.
Sanwo-Olu, the incumbent governor of Lagos state and the All Progressive Candidate, was reelected after violence and intimidation during the March 18 election.
The governor took to his Twitter, congratulating himself saying "I am honored to be re-elected as your Governor and pledge to continue to work tirelessly to deliver a better Lagos for all."
However, Falz reacted to his tweet stating that Sanwo-Olu reappointed himself governor and not Lagosians.
"You were not re-elected. You selected yourself. Everybody saw it unfold. You are only deceiving yourselves," he said.
SEE BELOW: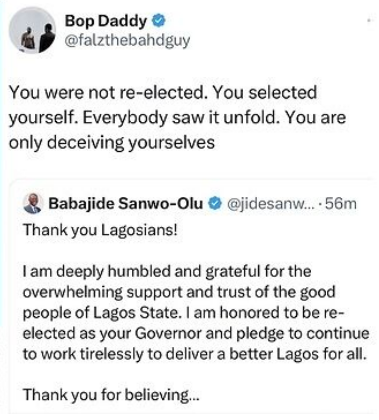 ER reports that Babajide Sanwo-Olu ran the gubernatorial race alongside PDP and LP's governor candidate, Abdul-Azeez Adediran and Gbadebo Rhodes-Vivor.
The election which was marred by pocket of violence has seen Sanwo-Olu re-emerge as the governor of Lagos state.