It's untrue and you know it – Daddy Freeze tackles Nkem Owoh over statement on Nollywood movies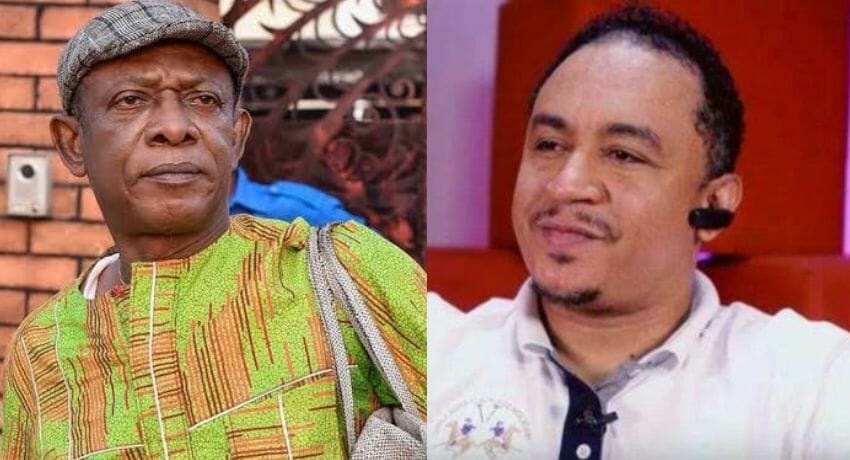 Nkem Owoh, also known as Osuofia, a legend in the Nollywood film industry, has come under fire from media personality Daddy Freeze for his comments on the industry.
The seasoned actor had previously praised Nollywood practitioners' efforts to produce films that are fiercely competitive with foreign films.
In a recent interview, Nkem Owoh stated that Nollywood has better storylines than its Bollywood and Hollywood counterparts. He said:
"If you check the time and how we started, you give kudos because we are making a tremendous progress in the industry."
Further commending Nollywood, Nkem Owoh said that Nigerian movies present real life stories and happenings around them, so it is wrong to compare the quality of Nigerian films with those coming from advanced countries. In his words:
"The storyline we take is better than any story from any woods, we don't have the technology, but we have the story.
"We are a third world country coming up, and people should give us kudos for the level we have attained.
"I believe, with the stories and creativity among us, if we get the needed technology, we will go places".
Reacting, Daddy Freeze stated that his opinion was untrue as Nollywood is still way behind.
Though he agrees that Nigerian music is on the same level with global standards, he claims Nigerian movies are still mediocre.
Urging the veteran to say the truth, he opined that Nkem Owoh's thought are a representation in idealized vacuum. Freeze said:
"This is untrue and even he knows it. Our music is on par with the global standards. However, our movies are still way behind. Let's tell ourselves the truth ease. Furthermore, in my humble opinion, his thoughts are moreso representations in an idealized logical vacuum; not events within a casual nexus, thereby creating an improperly defined apparatus for the measurement of industry growth".