How people bashed me for playing main character in 'Nneka the Pretty Serpent' – Idia Aisien recalls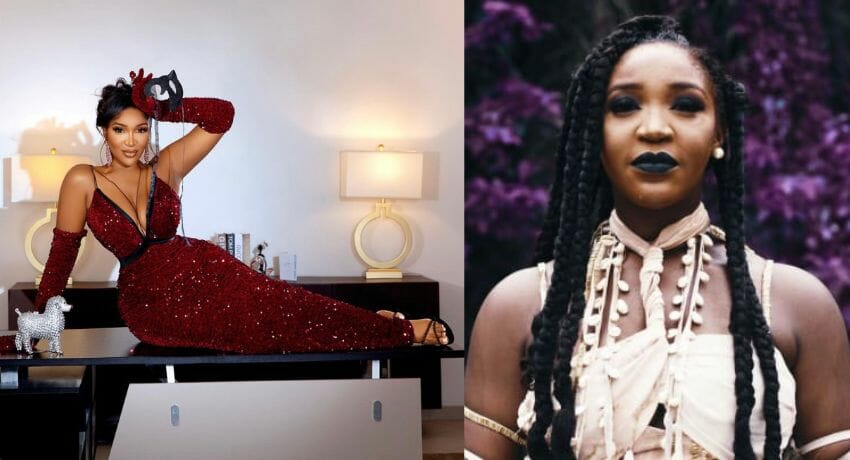 Idia Aisien, a Nigerian-American actress and model who appeared in the 2020 classic Nollywood film "Nneka The Pretty Serpent," has shared her feelings about the criticism directed at her character.
Idia Aisien, a first-time actress, played the lead role of Nneka in the film, but even the release of the trailer drew a lot of negative attention.
Idia Aisien revealed that after the film's release in theatres and on Netflix, there were a lot of negative reviews about it. People criticised the actress chosen to play Nneka and the sound of her Igbo.
Opening up in a new interview with media personality, Chude Jideonwo, actress Idia Aisien had this to say:
"Initially, I mean of course when it first came out in cinemas, I will be really honest with you because me I don't lie. When it first came out in cinemas, I was a little bit heartbroken by some of the comments that people were leaving about me not being light skinned, about me not being Igbo, about me destroying something that really meant something to a lot of Nigerians. Nigerians love their veteran actors, they love their Nollywood classics. So it was something that I just wished people could see how much not just work, but passion went into it at the time.
But with the international market, the kind of feedback we are getting. I am getting messages from the Phillippines. I'm getting messages from French Gayana, from Dominican Republic, from Trinidad and Tobago, from Costa Rica, and I'm thinking wait what? We are having calls from people in LA, and I'm now at a point where I'm like okay so Nigerians are giving me positive feedback but I hope this is not coming just because it's undisputed now.
I was hurt at first cuz I was like Nneka is a fictional character, and anybody would have brought something interesting and different to the character. But I don't think that skin color and tribe and any of that should matter. Black Panther was Americans pretending like they were somewhere in Africa.
The truth about the Igbo is that I understood what I was saying and I was very passionate about learning the language but whew, it's not the language, it's the intonation. You say something and people are like "Ah! Why did you say it like that?" And you're just like oh crap. So you just want to get it right also for the people who are Igbo so it's not a total letdown. But, I enjoyed myself."