Burna Boy's mum makes revelation about surname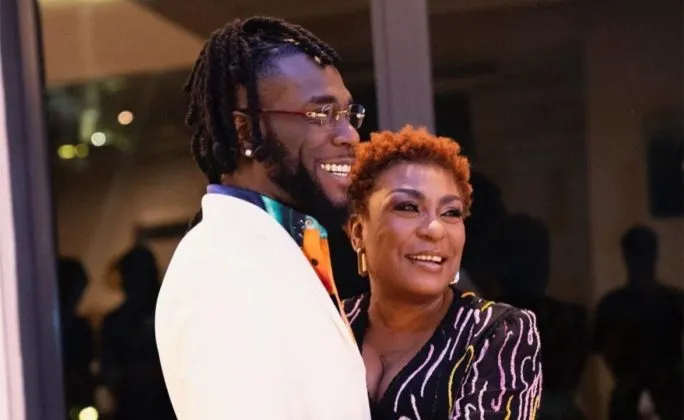 Bose Ogulu, the mother of Grammy winner Burna Boy, has revealed how she wrote her surname while studying at Queen's College in Lagos.
The revelation was made by the talent manager on Monday, January 16 at a dinner held at Freedom Park on Lagos Island to commemorate media, art, and culture executive Jahman Anikulapo's 60th birthday.
Mrs. Ogulu attended the event with her husband, Samuel.
Benson Idonije, Burna Boy's grandfather, was also present at the event.
Pamela Udoka, a Queen's College alumnus who co-hosted the tea, was a year ahead of Bose Ogulu in secondary school.
While introducing the woman popularly referred to as Mama Burna, Mrs Udoka craved the indulgence of the former's husband to refer to her as Bose Benson-Idonije.
Udoka said Burna's mum didn't like to be addressed simply as Bose Idonije but insisted on adding her father's first name to her surname.
Speaking later, Mrs Ogulu said she insisted people called her Bose Benson-Idonije before she got married because she didn't want to be mistaken for another Idonije.
Speaking about the celebrant, Mrs Ogulu described the man known mononymously as Jahman as a loyal friend and member of her family.
Her father Benson Idonije also called Jahman his son and recounted how the celebrant made him start writing for The Guardian after 35 years of broadcasting.
Jahman, who was the arts editor of the Guardian when Idonije began writing later became editor of The Guardian on Sunday.
After leaving Queen's College, Mama Burna bagged a Bachelor of Arts in foreign languages and a Master of Arts in translation from the University of Port Harcourt.
She had a successful career as a translator for the Federation of West African Chambers of Commerce.