Nkechi Blessing addresses "small small boys" professing love in her DM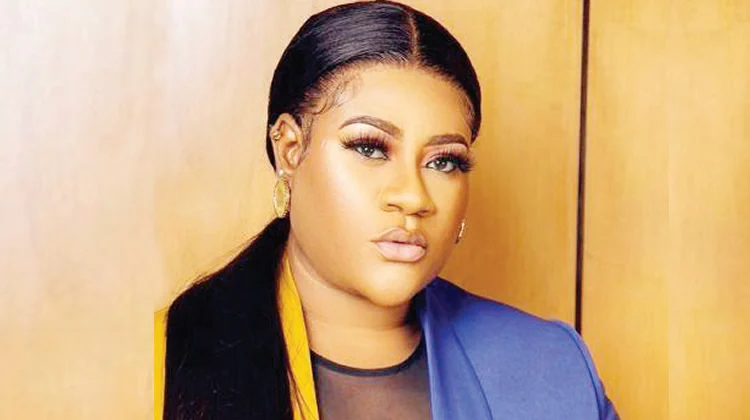 Controversial Nkechi Blessing Sunday, a star of Nollywood, has sent a message to the young men who have expressed their love for her through Instagram direct messages.
The single mother called the men "small small boys" and informed them that she was already taken, so their behavior would not catch her attention. Her words are:
"All this small small boys thinks sending me loved up DM's every morning will get my attention..
Lmao *Sis is TAKEN and attention cannot be divided."
Recalls the controversial Yoruba actress, has seemingly gotten over her messy breakup with her UK-based ex-lover, Opeyemi Falegan and has concurrently taken to social media to share videos of her cozy moments with her new boyfriend.
The videos, however, did not go over well with everyone, and some social media users criticized her for once again putting her relationship in the spotlight.
Nkechi Blessing Sunday responded to those who criticized her for posting a picture of her new boyfriend, unfazed by the comments.
In Instagram Stories she shared, the actress claimed that those who believe they can tell her how to live her life are insane.
Nkechi added that since it's none of her critics' business, she can post as many men as she wants on her page and questioned why some people prefer dwelling on her past. She wrote in a number of instastories:
"A lot of you are lonely and misre*ble na why body Dey pepper una 2 Get well soon
"Keep your prayers to urself Abeg & make una no Dey pray for me l am good!!
"I can post 3 million men on my page if I want to.try Dey mind your business..I am not related to any of you
"You say I am posting too much when my every post is reading in $$$$. you Dey whyne me? Taa!!!!
"I wonder why some of you still live in my past. as in Dey drink better panadol untop my own headache..Na wah!!!
"At 33 you think your opinion on how I should live my life matter? You must be m*D!!! If una like talk from now reach next year!!."