My music process reflection of my personal conviction of who God is- Bidemi Olaoba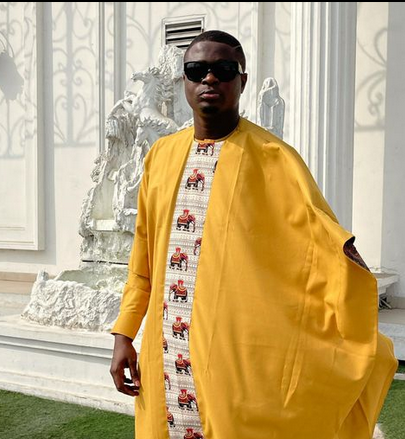 Wave-making gospel music artiste, Bidemi Olaoba has averred that his music process is a reflection of his conviction about who God is.
"What I do on stage is a pre-play of what I have done in my quiet, in my closet. I say this many times that the song is not the worship, the major instrument of worship is actually one's heart. Songs are just amplifiers. The process of making music for me starts from my personal conviction of who God is and what God is to me. I am sincerely grateful because I know I deserve nothing. The Bible says 'No man can receive anything except it is been given by the father' you know .How I come up with some things I say on stage out there are more personal too me and it just flows. When I open my mouth to sing a song God floods my heart with revelation about the song .The healed leper in Bible returned to Jesus with a loud voice. So you cannot be praising God and be quiet".
Olaoba who is known for his vivaciousness on stage also noted that how God reaches out to this generation is different through different individuals.
"I understand that some people have this perception of ' Oh maybe there is a pattern of how a praise or a direction a praise should go ' but this things are personal, how God reaches out to this generation is different through different people and through different means. The way God uses Daddy GO is different from the way God uses brother Jude, the way God uses me to express gratitude too this generation is different so yes, that's my revelation".
Speaking further, the singer who often draw scriptural references during his performances said his music style is dynamic
"My music is very dynamic in its nature. It is culturally dynamic and is spiritually dynamic. I am somebody that God has called out for this generation to be a blessing. My style of music has been influenced by my growing up. I grew up in an environment that is the ghetto side of Lagos. I mean before I gave my life to Christ, I have always been a talented singer. When I had an encounter with God, he began to work on me. Upon that encounter, that God began to work on me. Music for me became more than just a talent to becoming a call. It is a calling and this is how God has decided in his supremacy by eternal verdict to reach out to this generation. By the grace of God, through this style, I have reached out to thousands and hundred thousand of people. Yoruba has a depth and God has decided to use the instrumentality of that language to reach out to this generation."
On the inspiration behind his monthly praise programme, 'In his presence', the 'Bonjour' crooner said it was inspired by the COVID-19 lockdown.
"In His Presence was an idea God gave us during the COVID-19 lockdown. It is a vision God gave us during the lockdown. Then we had restrictions all over the world. Even churches were on lockdown and people were restricted from moving from one place to another. God gave us the mandate to go against the norm .That was how the word unrestricted was inspired. We thank God for what he did then and for what he is still using the programme to do".