Joshua to get 40% from Fury fight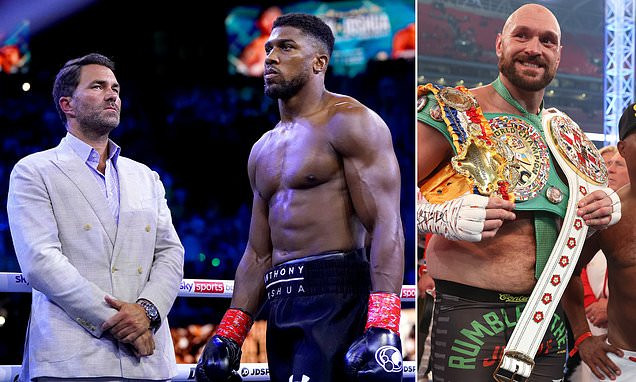 Anthony Joshua has formerly accepted Tyson Fury's offer for their 'Battle of Britain' clash.
The biggest fight in British boxing history will now take place thanks to his acceptance.
Joshua received a surprising call from Fury, who is unwilling to wait until 2023 for an undisputed matchup with Oleksandr Usyk of Ukraine.
To fight the Gypsy King, Joshua was given a 40% split of the record-breaking revenue.
The information was released after Frank Warren, Fury's promoter, said on Tuesday that he would be sending Joshua a formal written offer for a fight with Fury.
Initial plans called for a match in early November, but Joshua can't compete until December at the earliest after losing to Usyk last month.
Joshua's team is content with the terms as long as they receive the majority of the purse for the follow-up fight if they triumph in December, but Fury also wants to include a rematch clause.
After speaking with Frank Warren's son George, Joshua's promoter Eddie Hearn confirmed that they are willing to accept the deal being offered.
He told iFL TV on Thursday, "We just went back this (Thursday) morning and said I spoke to AJ about that offer, we think, I think particularly he deserves more than 40 per cent.
"But, he's happy. And I don't make the decisions, he does. So, I went back this morning and said, 'We accept 60/40'.
"We want that reversed in the rematch, rightfully so, because you're champion here, you want the bigger split, which I think is fair.
"And we want to do the fight in December. Now, interestingly, they have December 17th, Queensberry held at the Millennium, so that's perfect."
Fury initially wanted to fight WBA, IBF, and WBO champion Usyk, who beat Joshua twice in the space of 11 months.
It would have been the heavyweight division's first four-belt undisputed title decider.
But Fury wants to return to the ring by the end of the year and therefore turned his attention to Joshua.
However, despite having December 17th held, Fury has appeared to tell Joshua there are only two dates he'll fight. He claimed on talkSPORT that November 26 at Wembley or December 3 in Cardiff are the dates on offer.
He said, "I have Nov 26th at Wembley or Dec 3rd. One is 11 weeks, and one is 12 weeks.
"If a professional athlete who's shredded all year round can't get himself in shape in three months, there's a problem."