SAD! Boxer Jerry Okorodudu dies at 64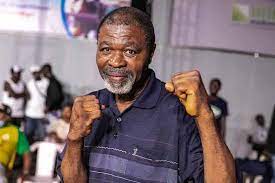 Popular boxer Jerry Okorodudu has died at the age of 64 at Dan's Hospital in Ikorodu, Lagos while reportedly awaiting amputation surgery.
Okorodudu died around 7 pm on Wednesday, according to journalist Eniola Olatunji.
It was learnt that the hospital authorities refused to release his corpse until a N600,000 debt is paid.
"The family of Okorodudu is distressed and his now widow, Adenike Okorodudu, is terribly devastated at the development as only N900,000 out of the hospital bill was paid as at Wednesday morning," Olatunji said.
"I gathered that his home State, Delta State and even Edo State where he grew up, did not react to pleas for support because of administrative bottlenecks as they were waiting for letters to be written before support could be offered. It was only former Deputy Senate President, Senator Omo-Agege who lost election as Delta Gubernatorial Candidate, who sent in N100,000:00 on Tuesday night to shore up the money to N600,000:00 which was deposited to the Hospital account Wednesday morning.
"One of the coordinators of SAVE JERRY FUNDS, Segun Olanrewaju, told me that the Hospital Management blatantly refused any plea for clemency and therefore refused the release of the corpse of Okorodudu."
The Olympic boxer was due for surgery to amputate his leg before his death.
He was ill for two years with partial stroke and diabetes that led to a foot ulcer.
Okorodudu was a bronze medalist at the 1982 Commonwealth Games in Brisbane, Australia and was controversially edged out at the quarterfinals of the 1984 Olympic Games at Vigil Hills on split decision of 3-2 by North Korean Sun Sho Shp which the Nigerian camp vehemently protested.
Okorodudu was a gold medalist at the National Sports Festival, Oluyole '79.
Before his demise, he said he was inspired to be a boxer by Muhammed Ali whom he never met.