Celebrities react as Funke Akindele, Juliana Olayode end rift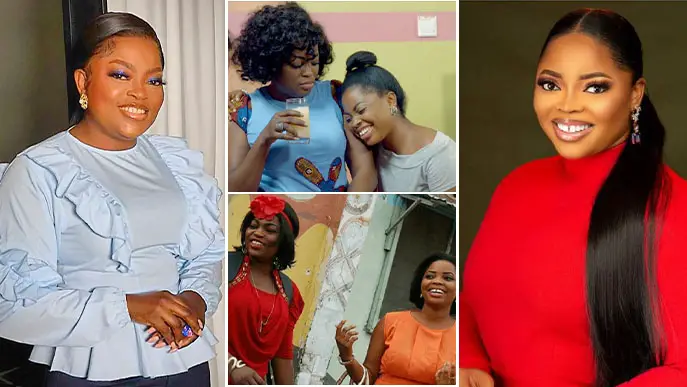 A slew of Nollywood celebrities have reacted to the resolution of an age-old feud between Nollywood actress Funke Akindele and her Jenifa's Diary co-star Juliana Oloyode.
Juliana had taken to social media to apologise to Funke.
Recall the pair fell out in 2017 over an undisclosed reason after Juliana starred in Funke Akindele's hit series, 'Jenifa's Diary'.
Juliana took to Instagram to share a photo of herself with Funke, along with a lengthy apology to the actress. She also stated that she had privately apologised to Funke but felt compelled to make a public apology.
"As a teenager, my career in the mainstream entertainment industry started where many people who have put in years of hard work could only dream of, how could a neophyte even start from the mainstream, if not for a miracle?
"In my case, the mercy of God and unmerited favour was evident, I broke into the industry by playing a friend and co lead with a screen goddess who had put in decades of hard work and unprecedented creativity even as at that time.
"God used Aunty Funke Akindele @funkejenifaakindele to put me into the limelight. It was a shocker for me, especially at that tender age, when I had barely left secondary school, the kind of fame I earned from playing Toyosi in Jenifa's Diary was too enormous for my understanding.
"However, the lack of industry nitty gritty started manifesting in me, coupled with the fact that I had a guardian (manager) who didn't understand how the entertainment industry works, and I believed anything he felt and said.
"My guardian sent an email to Scene One TV, the producers of the Sitcom, which entire content I wasn't aware of until recently.
"The story of my goofs at the take off of my career can not be exhausted in a million words, I want to use this opportunity to apologise to Aunty Funke Akindele, ọmọdé ò lè mọ ẹ̀kọ́ jẹ, kó má ra lọ́wọ́, I am incredibly sorry for how I hurt you and how the email that was sent hurt you.
"Please forgive me for my childish mistakes of the past, I am deeply sorry for everything.????????
"I love you eternally Aunty Funke.
"NB: I just feel the burden to make this official, it's not an attempt for people to help me beg her, I have met Aunty Funke, she has forgiven me, she hugged me, prayed for me, cooked for me like she used to in those good old days, Jollof rice elemi meji, fried rice and sweet chicken.(lol)
"I am her baby forever. She is such a sweet soul. The good days are back and you should probably anticipate ????. I love you all, thank you ????."
Reacting to Juliana's post, Funke commended saying;
"My Juliana. I miss you. I will bite you. Omo mi. I love you. See you soon".
Funke's comment has since attracted multiple stars who also expressed their joy over the mended relationship.
Actress Toyin Adewale wrote; "@funkeakindele Iya ibeji thank you very much, Oluwa ada awon omo si fun eh loruko jesu kristi, God bless you, darling."
Failthia Williams wrote; "Aunty Funke thank you.. Allah will continue to bless you and yours.. "
Eniola Ajao wrote; "You are a huge blessing our dearest Auntie FUNKE. Thank you so much for everything ???? We love you ma❤️."