'Branama' singer Kefee's ex-husband Teddy Don-Momoh remarries after 9 years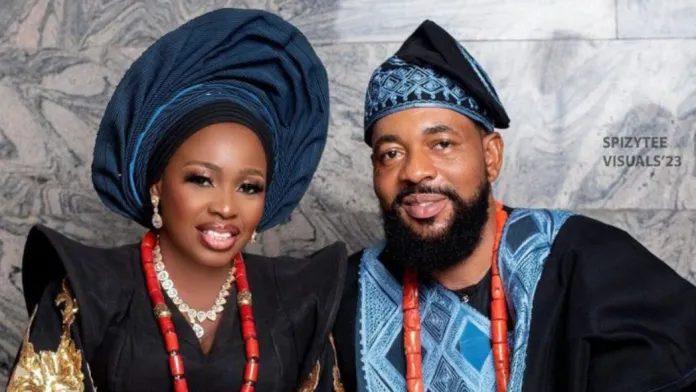 Teddy Don-Momoh, the late gospel singer Kefee's widower, has remarried nine years after her death.
Kefee, best known for her hit song 'Branama,' died of lung failure on June 12, 2014, in a hospital in Los Angeles, California. She was 34 years old.
Don-Momoh surprised his fans during the Easter celebration when he announced he had married a new woman.
The media personality posted photos and videos of his traditional wedding with Lara Kudayisi on social media.
"Happy Easter y'all from me @teddiizzle and my bride my Queen ????@dearcoachlara," he wrote on Instagram.
The wedding took place on Easter Sunday, April 9.
In one video, the new couple sported the Edo traditional attire and were all smiles as they posed for the camera.
On April 11, Don-Momoh shared a picture of his new wife talking to him on their wedding day. He captioned it, "Mr & Mrs Don-Momoh Traditionally certified….???? You don't wanna know what she was telling me."
The OAP posted another photo showing him and Lara wearing different outfits from the Edo traditional wears.
Don-Momoh's wife Lara, who describes herself as a family therapist, also shared videos and photos from the wedding on Instagram.
She wrote in one post on Instagram, "Yesterday, it was kissing galore because we made it official..It was such a beautiful day with our friends and families witnessing us commit to forever. I present to you Mr and Mrs Lara and Teddy Don-Momoh @teddiizzle."
Lara, who says she suffered from 14 heartbreaks, 15 abortions and a divorce, encouraged her 28,000 Instagram followers that they can find love again after trauma.
"I'm still in the moon guys, but let me just drop this here; You can find love again after trauma and pain," she wrote.