How I survived death – Charly Boy after battling prostate cancer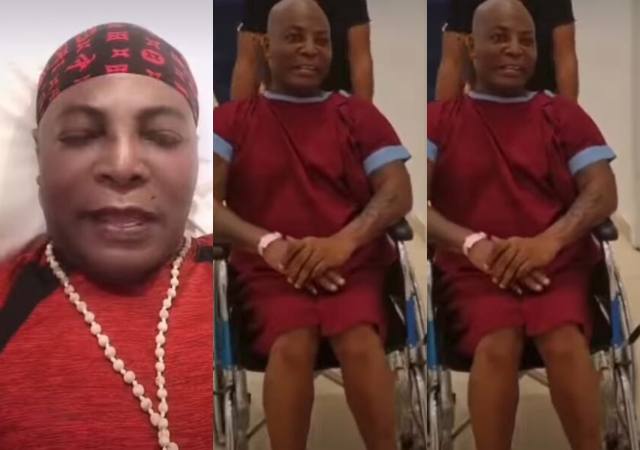 Charles Oputa aka Charly Boy, a veteran entertainer, has revealed his battle with prostate cancer, thanking God for saving him from a disease that rarely spared victims.
The 72-year-old media personality posted a video of himself leaving the hospital following a successful surgery.
Charly Boy expressed gratitude to Nigerian surgeons for doing a great job on him, as well as his family members and well-wishers for their support during his trying times, after revealing that he did not have to travel outside the country for the surgery.
In a video posted on his Instagram page as he was being discharged from the hospital, he recounted his hospital experience.
"Yeah, today I'm being discharged from the hospital. "Yeah, you heard me right. I'm in the hospital, you see, yes," the Area Fada said as he adjusted the camera for his audience to confirm his location which saw him being wheeled out of the theatre.
Continuing, Charly stated: "You know in my life, I've fought so many battles and I've won so many battles. But for the past 10 days, I've been battling with something very very huge. But as God would have it, He saved my life.
"I've been fighting my prostrate issues. No be small thing o! No be as you see me so dey shine you go see videos you go know say na from the jaws of death I dey comot from.
"The thing wey dey kill many people, e no kill me Charly Boy. I want to thank God for sparing my life. My cousins who gave me great support and great love You guys are the best.
"I want to thank my friends, well-wishers during this biggest fight ever that I've had in my life. Above all, I wanna thank the doctor who saw to it that he did a fantastic job. His name is professor Kingsley Ekwueme. He was the doctor who took care of me and who solved my problem. I want to thank you, you're a great guy.
"Una see now, I no travel go London o! I no travel go America. I no travel go anywhere. Na inside this Naija.
"I just want to say, I love you all. I thank you all for those who showed me love, and I just want to say I'm back. Yes! Charly Boy no dey finish na. I'm not going anywhere soon."
Accompanying the video, Area Fada wrote: "Gosh, I have fought one too many battles in my short life. Most of the time, I win.
"Prostate cancer cannot cripple love, it cannot shatter hope, it cannot conquer his spirit.
"Abegi makes una help me thank God for giving me yet another chance".