You have a case to answer, Police tell Abuja pastor who stormed altar with AK-47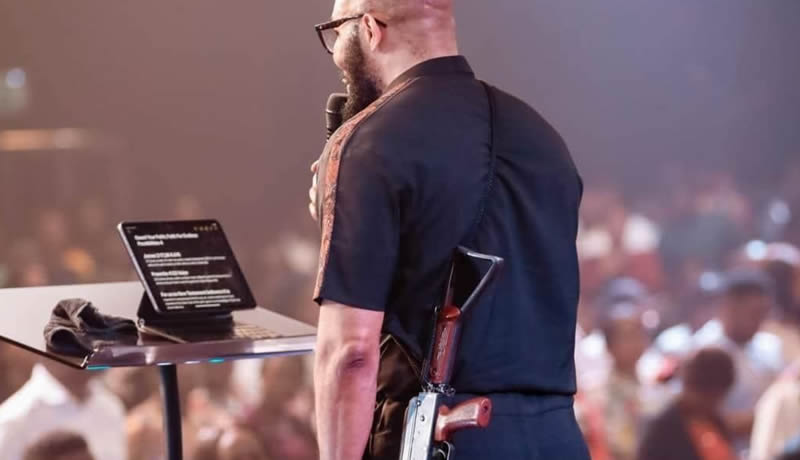 The Nigeria Police Force has announced that it will conduct an investigation into Pastor Uche Aigbe of the House on the Rock Church, Abuja chapter, for mounting the pulpit with an AK-47 rifle.
According to reports, the incident occurred on Sunday during the second service, causing a commotion as the congregation tried to figure out what was going on.
"Some people are looking for my trouble. And I came here prepared. Today, there are some pastors with the gift of divination who go about ripping people off. This is why we should carry our 'guns' and defend ourselves. I will particularly be coming very soon for some of you sleeping in the church," the Pastor said as the church erupted in laughter.
Reacting to the pastor's action on Twitter, the Force's Public Relations Officer, Olumuyiwa Adejobi, said AK-47 rifle falls under the prohibited firearms in Nigeria and only certain law enforcement officers are allowed to do carry it.
Adejobi said he had forwarded complaint over the pastor's action to the FCT Police Commissioner to act.
"But if its true, the pastor will have a case to answer. AK47??. It falls under prohibited Firearms in Nigeria, and no one bears it except an officer of the law, and not all of them have the right, selected sec operatives, but no individual has the right to bear it.
"The FCT police command will investigate it, i trust the new CP FCT, CP Sadiq,.. its shocking," he wrote.