"Let's know the root of this in the open"– Susan Peters reacts to arrest of individuals selling new naira notes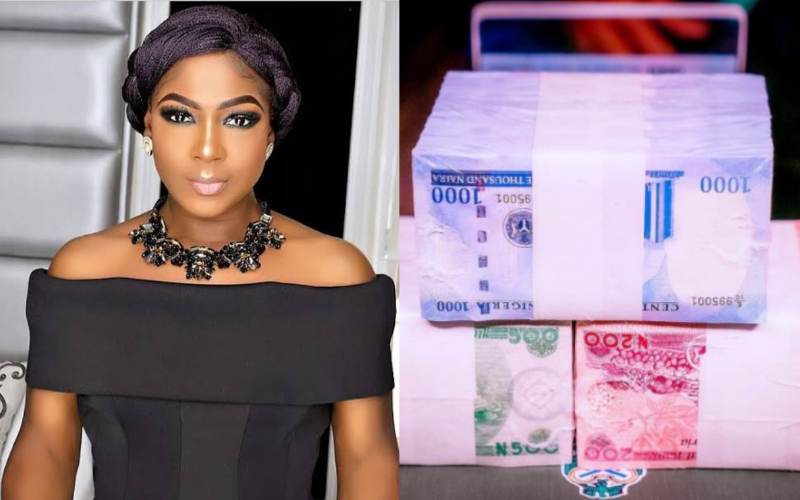 Susan Peters, a star of Nollywood, responded to reports that the Department of State Services had detained an unspecified number of people associated with the sale of new naira notes.
Susan Peters expressed her concern over the chutzpah of selling the new notes, which are not yet widely used.
A statement from the DSS's spokesperson, Peter Afunanya, accused several commercial bank employees of supporting the crime.
The statement was titled, 'DSS intercepted syndicates selling new currency notes, bank official implicated'.
It reads, "The Department of State Services hereby informs the public that it has intercepted some members of organised syndicates involved in the sale of the redesigned new naira notes. In the course of its operations, in this regard in parts of the country, it was also established that some commercial bank officials are aiding the economic malfeasance.
"Consequently, the Service warns the currency racketeers to desist from this ignoble act. Appropriate regulatory authorities are, in this same vein, urged to step up monitoring and supervisory activities to expeditiously address the emerging trend.
"It should be noted that the Service has ordered its Commands and Formations to further ensure that all persons and groups engaged in the illegal sale of the new naira notes are identified. Therefore, anyone with useful information relating to this is encouraged to pass the same to the relevant authorities."
Susan Peters demanded that the DSS reveal the identities of the crime perpetrators on her verified Instagram page in response to this unsettling news.
She wrote;
Syndicates selling new naira notes have been arrested , excuse me sir! is it the bankers or bank managers or the third parties ? Please let's know the root of this in the open .
The Banks, The Bank Managers , Or The Bank Workers before the third parties , they are the real cause of the shortage of naira .
Why will they even start selling new naira notes? They should have been spraying the old ones at least till the deadline . The heart of man eh … kaiiii , it's like you guys enjoy the saying suffering and smiling
Please we don't want again , no more !!! Carry una slogan ! We are tayad !!! My yard people abeg una no tire for this suffering?