Apostle Suleman makes good on his threat, sues Halima Abubakar for N1bn; court case date revealed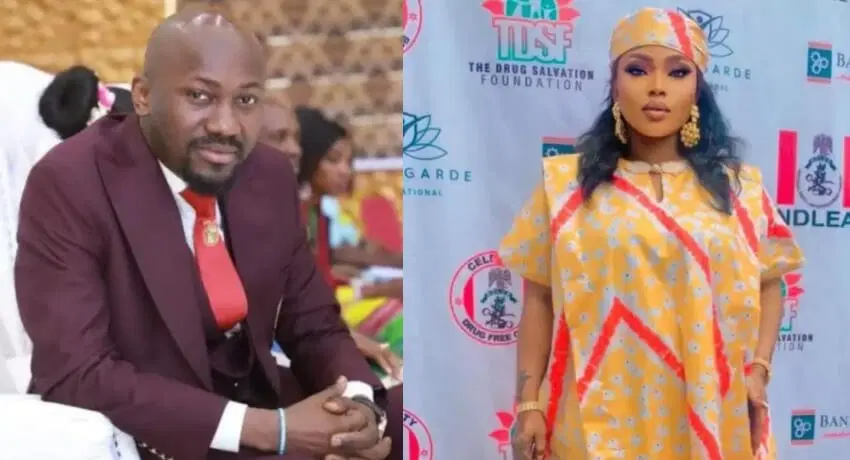 Apostle Johnson Suleman, a cleric, has followed through on his threat by suing controversial actress Halima Abubakar for more than N1 billion.
It was learned that the clergyman had filed a defamation lawsuit against the ailing actress.
Remember how Halima made headlines for weeks last year when she accused Apostle Suleman of having an affair with her? The actress and her family also claimed that the pastor caused her illness, as the once bubbly Halima has turned into a shadow of herself.
In response to her numerous allegations, Apostle Suleman threatened Halima with a lawsuit for defamation of character.
The suit titled "DEFAMATORY STATEMENTS CONCERNING APOSTLE JOHNSON SULEMAN: NOTICE TO CEASE AND DESIST" was specifically addressed to Halima Abubakar over her outburst on social media regarding her past affairs with the man of God.
The suit accused Halima Abubakar of publishing damaging, malicious and defamatory statements about Apostle Suleman against his conduct. The ailing actress was also asked to make a retracting statement in some selected National Newspapers.
Going forward with his lawsuit, it was learnt that the founder of Omega Fire Ministry is demanding N1billion in compensation from the actress.
According to reports, the court case comes up 25th of March, 2023.
When Suleman earlier threatened her with a lawsuit, she stated that she was ready for him. She said:
"JS Sure see you at the court".
Halima and Suleman had over a decade-old relationship.
The Kogi-state actress had opened a can of worms about their affair which she claimed happened 11 years ago. Halima revealed that the clergyman had engaged her, held a wedding introduction with her and had three abortions for him.
To top it off, Halima's family accused the clergyman of being fetish as they claimed he had bedridden the actress.
Currently, Halima is indisposed and in the care of her family and loved ones.