Actress Kiitan Bukola and fiance's relationship reportedly over barely two months after engagement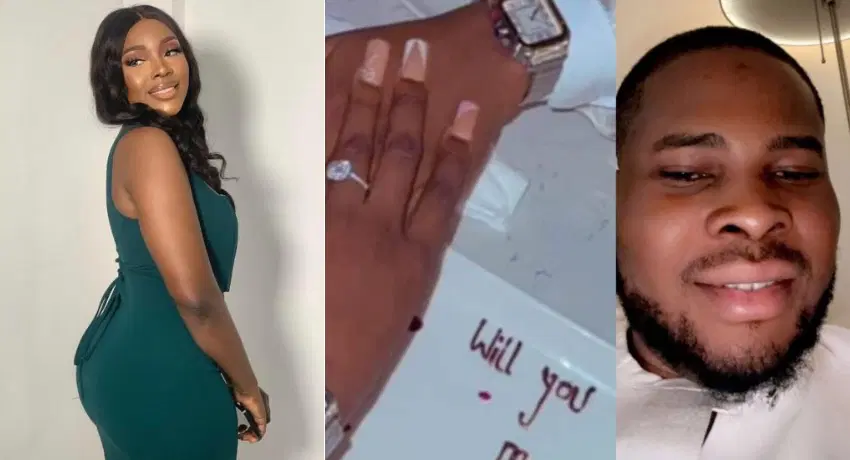 Kiitan Bukola and her fiance, Kingsley, are reportedly no longer together, just two months after their engagement.
Recall how the Yoruba actress announced her engagement to her lover in November.
However, it appears that the couple will not be marrying, as reports are circulating that the couple has broken up.
According to sources close to the couple, the couple has split up, and Kingsley is demanding that she return the Cartier watch and diamond ring he gave her on their engagement day.
According to the sources, Kingsley broke up with Kiitan after she called his mother a witch and discovered she was seeing someone else in the UK.
"Kiitan and Kingsley's relationship is over. In fact, he's demanding that she returns the Cartier watch and Diamond ring he gave her on their engagement day. He ended things with her after she called his mother a w*tch and found out she was seeing someone else in the UK".
A check on their Instagram pages shows that the duo have unfollowed each other. Kiitan has also taken down the engagement video from her Instagram page and has stopped posting photos with the engagement ring on her finger.
This shocking split brings an end to their one year and six months relationship.
On November 16th, 2022 Kiitan Bukola announced that she got engaged to her lover.
In a video she posted on her Instagram page, the budding actress announced the good news to the world.
Kiitan shared a clip of the proposal and her new lover, as she revealed that she is now taken.
The actress stated that there is no more hide and seek as their relationship is official.
"Am taken.
No more hide and seek it's official".