Kanayo O Kanayo opens up on the only 'Juju' he knows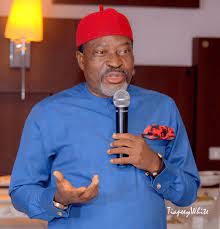 Veteran actor Kanayo O Kanayo has debunked claims that he is diabolic.Kanyao who is known for the roles he plays in movies as someone who does money rituals said he doesn't engage in it.
The trained lawyer made this known in an interview with media personality, Chude Jideonwo,
"For me, I haven't done any juju. The only juju I know is Jesus. All these 'nnanyi sacrifice', and so on, ehn… Call me, no problem; as long as you're paying my cheque," he said.
The Entertainment Reporter recalls that the actor recently urged masses to save Nigeria.
In his words:"You and I have the power to save our country, no one can do it but you. Do not keep saying your vote will not count, first go and perform your civic responsibility of casting your vote.
"Going to vote is better than going to church or the mosque don't mist understand me If you were going to church and there is catacata like we say in Nigeria and you couldn't get there, you know what I mean.
"My brothers and sisters, there is no in Jesus' name when it gets to voting. That's why you're saying in Jesus' name and these guys have been doing what they have been doing a long time there is no voting on social media, it's a physical exercise.
"You must be there physically if by now, you have not gotten your permanent voters card, you have become part of the problems of Nigeria."