Deyemi, Toke stir debate with number of times couples should have sex weekly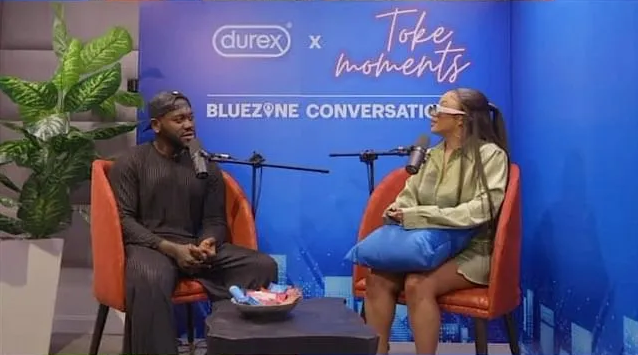 Nollywood actor Deyemi Okanlawon and media personality Toke Makinwa have stirred debate with the number of times couples should have sex weekly.
In a recent conversation, Toke Makinwa said that sleeping together four times a week as a married couple is excessive.
Toke Makinwa, an actress who also hosts a YouTube show called "Toke Moments," announced this on the episode of "Knowing Your Partner Needs" where she invited actor Deyemi Okanlawon as a guest.
It all began after Toke Makinwa stated that in a relationship, one may feel the need to "communicate, go to the movies, have sex four times a week, and occasionally not one to work."
Deyemi Okanlawon, who recently celebrated his 10th wedding anniversary with his wife, reacted by saying that four times per week is not much at all. Four times per week is work, he claimed.
Responding, Toke Makinwa says "4 times is too much, how long do you guys have to do it, 6 times a week, what is going on in your home?"
Actor Deyemi Okanlawon maintains his stands as he asserts that 4 times in a week is small as married couple can do it as much as they can.
He added that married couples can do it as much as they eat, noting that people eat 3 times in a day.
Toke Makinwa however added that 2 times is fair enough rather than 4 times and above. Watch the video below;
See reactions below;
deyemitheactor: 70 x 7 times a week… if you fit forgive this number of times then you suppose fit do the same number of times! ???.
shaslims: There are times when you want to have it almost everytime and there are times when you just don't want to. I would go with the no timetable in marriage but atleast we must have some in a week sha ??.
chef_amandaera: $exx doesn't have timetable for married people ?
henry.precious.100: It depends on the mood. Sometimes it's back to back, while other times no show for weeks.
oyinpepper06: Everyday o we go dey fire ? ??.
itsjessified: 4times a week is much oo??,argued dis thing wit my friends some days back..abeg i just cant oo wit which strength ..
skyboy_armani; Two times in a week is appropriate for kpenching.
deyemitheactor: Rest bawo? You house was made for living, does it need to rest? Your car was made for driving, does it need to rest? Ogbeni bring out that thing that was designed for only one reason! ???.
akinyemiola86: Una go just dey cap, it takes a man about 3weeks to replenish one session of sex, which time una go come use plan una life, with these crazy bills out there, man go just dey work for bed like horse. Nawa o.