Sunday Dare orders closure of National Stadium Lagos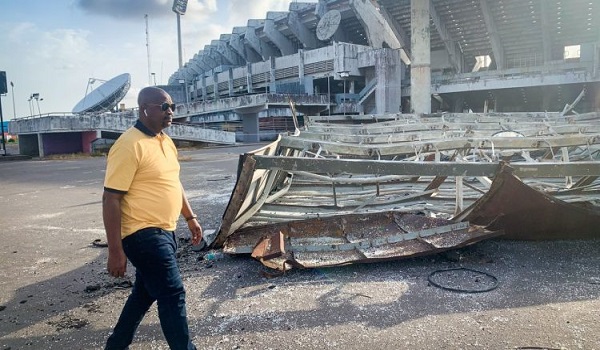 Sunday Dare, the Minister of Youths and Sport Development, announced the temporary closure of the National Stadium in Surulere, Lagos, on Saturday due to the collapse of a floodlight mast.
Dare revealed this in a statement following an inspection of the collapsed floodlight mast.
According to the News Agency of Nigeria (NAN), Dare paid a scheduled visit to the stadium on Friday, promising to make his position known after due consideration.
However, following the tour of the stadium, the minister ordered its closure to avoid any unforseen circumstances.
"Thank God there was no casualty. I also inspected the three other light masts and the effects of age and weather elements were visible, clearly, they are also a suspect after 51 years.
"Based on my assessment, advice of experts and in the interest of public safety, there will be a temporary closure of the stadium and surrounding facilities; proper assessment and necessary action will be taken soon.
"The concession process towards fully privatising the Surulere stadium which began last year will be expedited by the Federal Government through the ICRC towards a comprehensive rehabilitation and upgrade of the 51 years old edifice.
"We have decided to be on the side of caution, hence the decision to impose extensive restrictions around the stadium.
"We request the cooperation of anyone who this decision may inconvenience as we cannot ascertain the reality on the ground," said the minister.