Cover your swimming pool, fans tell skit maker Sabinus as he shows off new house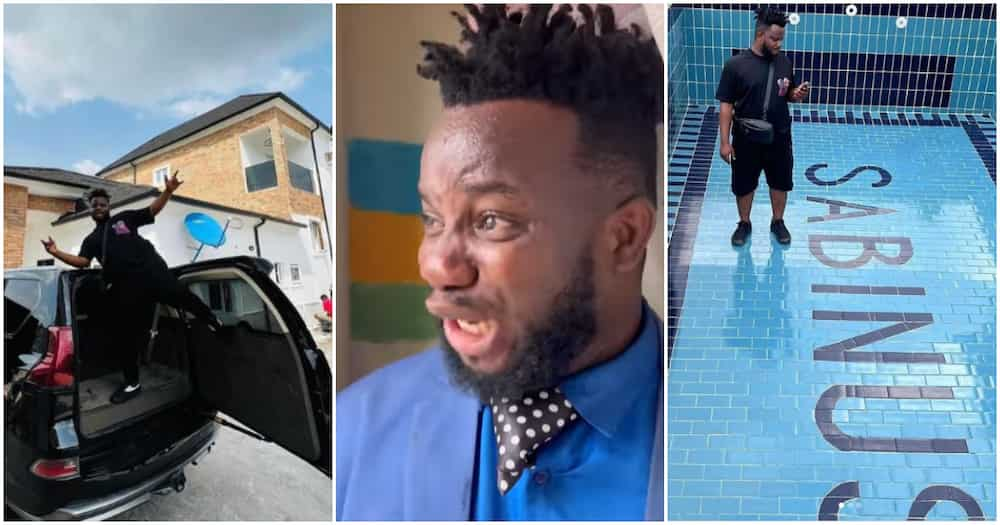 Skit creator Sabinus has begun receiving congratulations for his recent home purchase.
On Thursday, pictures of the home with the swimming pool were posted on social media.
While many people praised the comedian for his most recent success, others cautioned against leaving the pool open to prevent drowning accidents, as was the case with pop star Davido's son Ifeanyi Adeleke, who perished in the pool at the latter's home on October 31.
An Instagram user identified as Uyi wrote: "Congratulations investor,. But as una Dey Dey create swimming pool for una mansion, also try nd get pool cover."
"I no wan hear say another person drown for inside again," Josh wrote.
Ezenwaka added: "I no wan hear drowning story again ohhh abeg."
"Big congratulations to Oga Sabinus. Pls take precautionary measures on your pool," Trendy wrote.
"Congratulations! This swimming pool,hope say e get cover," South South Cutie wrote.
"Una no dey fear swimming pool?" Joy asked.
"Congratulations! Abeg cover the swimming pool," Ada wrote.
"Congratulations Sabinus that pool," Dele wrote.