Donald Trump's daughter to marry Nigerian-Lebanese on Saturday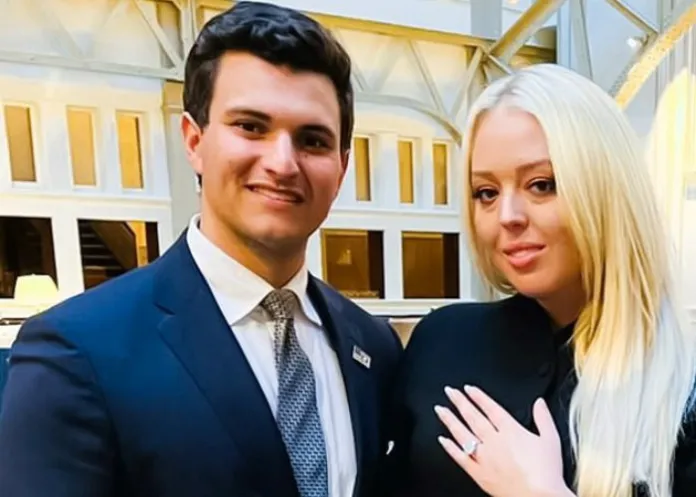 Tiffany Trump, the daughter of former US President Donald Trump, will marry her Nigerian-Lebanese fiancé Michael Boulos on Saturday, November 12.
The wedding will take place at Mar-a-Lago in Florida.
Tiffany, 29, and Boulos, 25, have been dating since 2018, during which time they have each enjoyed numerous times with the parents of the other. According to reports, the bride and former President Trump have grown close.
In the final days of her father's life, Boulos, the multibillion-dollar Nigerian corporation Boulos Enterprises' heir, proposed to Tiffany at the White House in January 2021 with a $1.2 million ring.
Tiffany attended her opulent bridal shower in Miami the weekend before the wedding.
Tiffany was joined at the bridal shower by half-sister Ivanka and sister-in-law Lara, reports Daily Mail.
Ivanka, 41, and Lara, 40, accidentally donned matching white dresses with blue floral prints, while Donald Trump Jr.'s girlfriend Kimberly, 53, sported a pale pink top and a floral headband.
Lara and husband Eric Trump's youngest child, three-year-old daughter Carolina, also attended in a white lace dress and matching lace-embellished socks.
"Ivanka Trump and I did not plan these dresses," Lara joked while sharing the snap on her Instagram Stories.
The former TV producer also posed up for a snap with Kimberly, who wore a pretty pale pink top, accessorised with a flower crown, which the women appear to have made during the bridal shower; Ivanka later posted an image of her family dog Winter sporting one of the creations.
Ivanka also posted the image of herself, Tiffany and Lara, along with a photo of her niece Carolina posing with some flowers, on her feed, writing in the caption: "Back in Florida, celebrating my beautiful, brilliant and kind sister @tiffanytrump at her bridal shower."