You are morally corrupt, bankrupt- Georgina Onuoha fires back at Chioma Chukwuka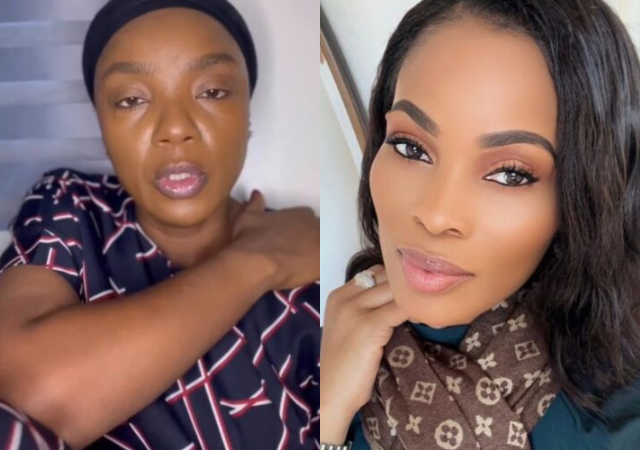 Georgina Onuoha, a Nollywood actress, has slammed her colleague, Chioma Akpotha amid the election brouhaha which started as far back as 2019 between the two celebrities.
Recall that Akpotha took to her Instagram page to allege that thugs disrupted the election at her polling unit in Eti-Osa LGA, Lagos.
She claimed she was "abused and beaten" by a woman at the venue.
Akpotha also demanded extra security and military intervention at her polling unit.
But in a lengthy Instagram post, Georgina said Chioma does not have the right to complain about electoral violence.
Georgina also alleged that during the 2019 election, Chioma slid into her DM to warn her against sharing posts on people lamenting about rigging and violence at polling units.
She claimed Chioma told her it could paint her brand in a bad light.
Chioma Akpotha had taken to her social media page earlier to dare her colleage Georgina Onuoha to prove that she was paid to support a specific presidential candidate.
The actress also shared her four years conversation with Georgina Onuoha as they open old wounds. Reacting, Georgina has written to Chioma addressing the situation at hand. She wrote:
Dear Chioma Chukwu if you want to address me based on my post about your drama, please do so directly. Do Not Deviate from that. 75 percent of your friendship was based on what you could get from me and my husband.
You know you married a deadbeat that could not feed you or fend for you.
Please in the name of God don't toe that line.
Chioma you remain a "Poor" little girl dangling around for your stomach infrastructure.
And if you want us to go down memory lane of your charlatan and unscrupulous antics. I will be more than glad to tore that lane.
Once again tell Nigerians how you disparaged those being killed four years ago and how you made mockery of their pain and deaths. And how your morality failed your self as a Christian that all you could think and talk about four years ago was money and branding.
You will not have the last Word on this hence the world will know what an incorrigible grifter you are who only cares are align with people or issues if there are benefits attached to it.
You are morally corrupt and bankrupt.
Forget the show up put on and up on social media, we way know you reach house know what a ratchet girl you are.
This movie will be tales by moonlight…
So, we used the same wedding clothes bought at the same place and wedding cards printed at the same place means I replicated you ?. See a hungry girl like you that have to beg for money around the organize a wedding ??.
Girl I warn you..
Address the election issue at hand, you don't want the world to know the kind of supercilious person you are.
Address election issues.
.
By the way Girl.
Rephrase your innuendos.
You will Not have the last word on this.