Revealed: 5 Nigerian artistes who have sold out 02 Arena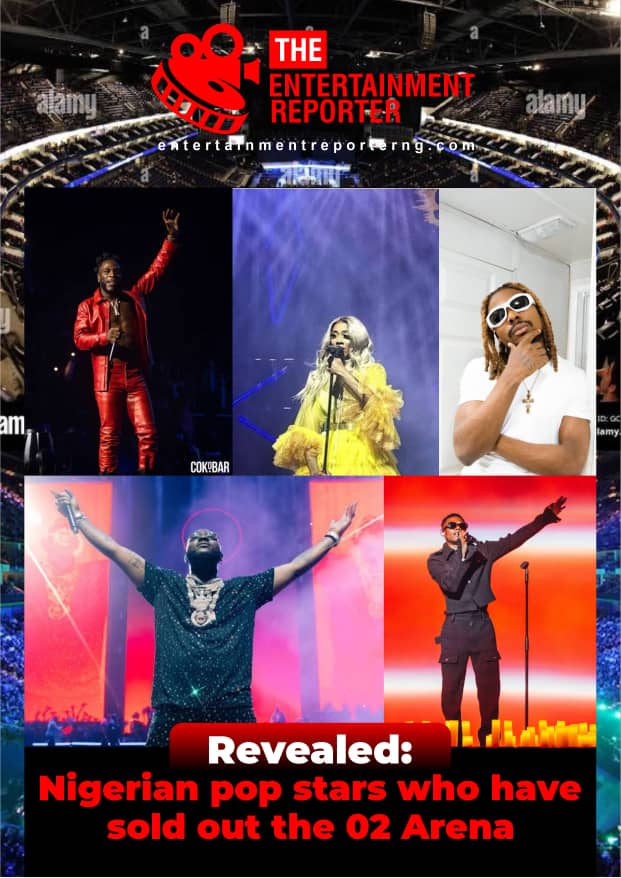 The O2 Arena in London is a big deal in the entertainment world, and only a handful of top-notch artistes manage to fill its seats.
Among the incredible talents that have achieved this impressive feat, some Nigerian superstars have taken their music far and wide. Let's dive into the stories of five Nigerian artistes who've sold out the O2 Arena and left an indelible mark on the global music scene.
Wizkid
Wizkid, the Starboy himself, made history by not only selling out the O2 Arena once, but doing it twice! It all started in 2018 when he had his first sold-out show. With hits like "Ojuelegba," "Come Closer," and "Essence," his Afrobeat magic was felt worldwide. Those O2 nights were absolutely unforgettable, thanks to Wizkid's mesmerizing stage presence.
Davido
Davido, another Nigerian megastar, pulled off a remarkable feat in 2019 – he sold out the O2 Arena! With tunes like "If," "Fall," and "Fia," he had the crowd eating out of his hand. His performance wasn't just a concert but a global music spectacle that proved how music can bridge cultures and bring people together.
Burna Boy
The African Giant himself, Burna Boy, stormed the O2 Arena in 2020, showcasing his Afrobeat, reggae, and dancehall fusion. With his Grammy-nominated album "African Giant," he had a lot to prove, and he did it in style. Burna Boy didn't just entertain; he used his music to speak about cultural and political issues that hit home for many.
Tiwa Savage
Tiwa Savage, hailed as the Queen of Afrobeats, became the first female African artist to sell out the O2 Arena in 2018. With her empowering anthems like "All Over" and "49-99," Tiwa Savage's concert was a celebration of femininity and African pride. Her dynamic stage presence and soulful vocals were a testament to her incredible journey from humble beginnings to global stardom.
African Bad Girl, Tiwa Savage was the toast of many when she was one of the few artistes globally and the only Nigerian to perform at King Charles III Coronation concert held last month, May 6, 2023.
Asake
Asake's journey from the streets of Lagos to the grand stage of the O2 Arena is a testament to his determination and talent. Very recently, Asake became one of the first Nigerian artistes to headline his own show at the O2 Arena. Known for his energetic performances and street-inspired hits, Asake's concert was a celebration of his roots and an inspiration for aspiring artists from similar backgrounds.
Asake sold out the iconic London arena on Sunday night, 20th August 2023, making history in the process as the first Nigerian newbie to do so.
Olamide, Tiwa Savage, Fireboy and a host of others joined Asake on stage to thrill the crowd
Conclusion
The stories of these 5 Nigerian artists lighting up the O2 Arena underscore the global influence of Afrobeat music and the exceptional talent emerging from Nigeria's music scene. Their performances don't just entertain; they connect people across continents through the power of music. As these artists continue to shine, we can expect more sold-out shows, more groundbreaking performances, and a future where African music dominates the world stage.