Nathaniel Bassey, Mercy Chinwo, Kingsley Okonkwo and more-
See list of 10 Most Influential Christian Creatives 2022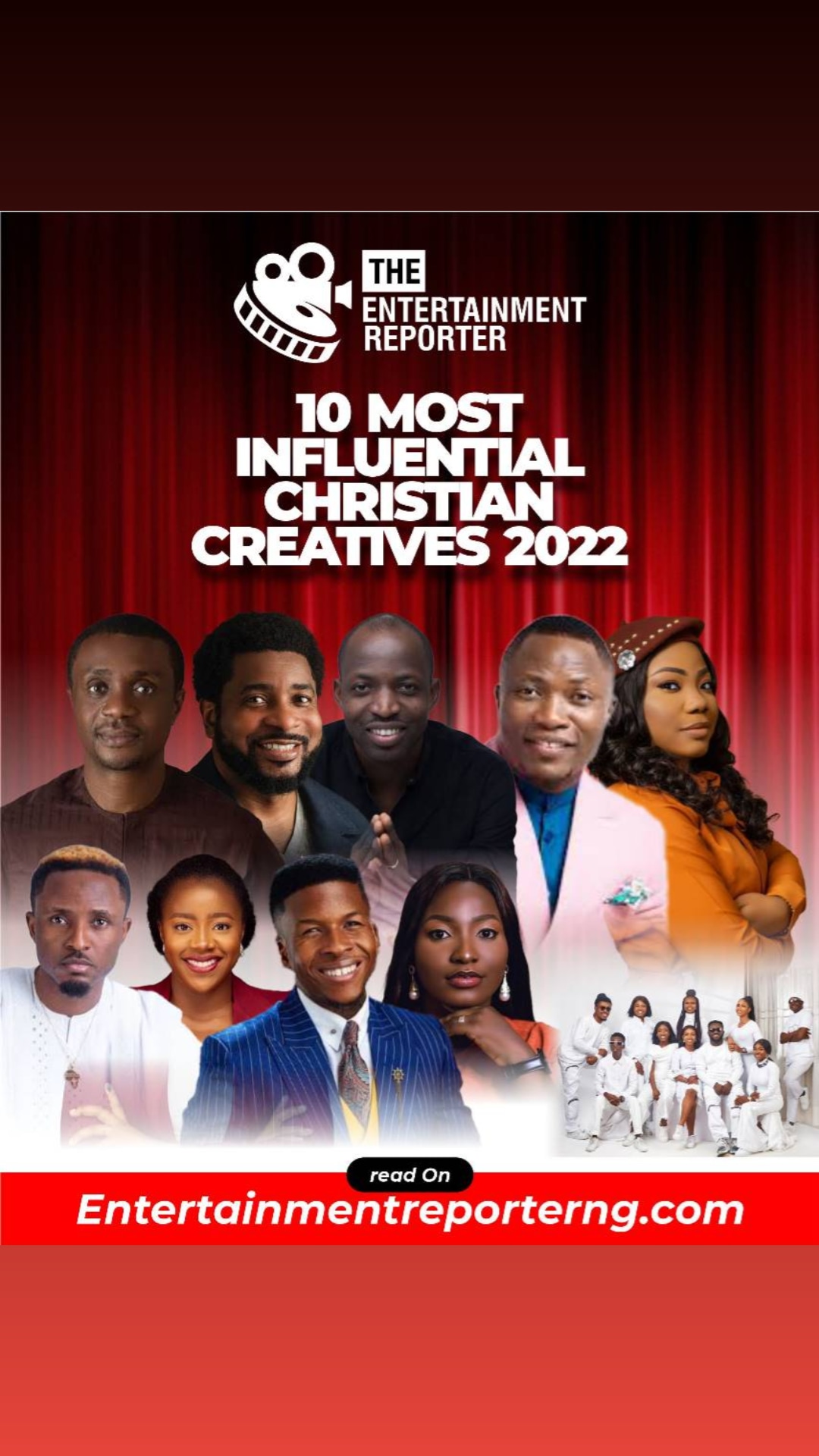 In our usual fashion, Entertainment Reporter takes a look at the Christian creatives who continue to add value to contemporary society. In no particular order, we present to you 10 Most Influential Christian Creatives 2022
Nathaniel Bassey
Pastor Nath is one of the most influential Christian creatives in the Nigerian creative sector. The graduate of Politics and International Relations at the University of London, who is a renowned gospel musician and minister is also the convener of Halleluyah Challenge. The challenge is a 30-day midnight praise challenge that started June 1 – June 30, 2017. Over the years, Nathaniel Bassey has worked with the likes of Chandler Moore, Travis Greene and other anointed gospel ministers of God.
Kingsley Okonkwo
Kingsley Okonkwo is the senior Pastor of Davids Christian Centre. The relationship coach, marriage counsellor and author also doubles as the convener of Love Dating and Marriage. In 2022, he alongside his wife, Mildred Okonkwo hosted their relationship seminars in the USA, London and about to host another one in Canada before the year runs out. Earlier in the year, he was also conferred with a honorary doctorate degree from Myles Leadership in recognition of his outstanding contribution in the areas of youth development, spiritual leadership, mentorship, leadership, and philanthropy.
Mercy Chinwo Blessed
When you think of Mercy Chinwo several words come to mind, words like anointed, enthusiastic and soulful. Chinwo is a gifted vocalist and gospel artiste known for songs like 'Obinasom', 'Excess Love' and 'Onememma'.One of the highlights of Mercy's 2022 was her wedding ceremony which set social media abuzz for days. Mercy sings from her heart and writes melodies that ministers to the soul.
Dunsin Oyekan
Fondly called "the Eagle", Dunsin's desire is to fill the atmosphere with the heart of God, witness God, and stir revival captured on the power and wisdom of God. He is the convener of Outpouring, a gospel outreach programme. Dunsin is a full-time worshipper who has released four albums — 'Code Red', 'Kingdom Now', 'The Gospel of the Kingdom', and 'The Glory Experience – Songs of Zion'.
He is also the host of 'Upper room' a programme that focuses on communing with God and other believers.
Dunsin's life is dedicated to bringing the God dimension into the world through sounds imparted to him by the Holy Spirit.
Emmanuel Iren
Emmanuel Iren is the lead pastor of Celebration Church International with the mandate to raise a billion in ten thousand cities. CCI as it's fondly called has 11 churches in 4 locations across the globe. Iren is also a gospel artiste. This year, he released an album titled 'Apostolos' featuring Sinach, Judikay, E-Daniels and others.
Apostolos is the first Christian album to peak in the Top 10 of the Apple Music Album chart since Dunsin Oyekan's "The Gospel of the Kingdom which peaked at #4 in January 2021".
Laolu Gbenjo
Laolu Gbenjo is an animated gospel artiste who has carved a unique niche in the gospel-alujo genre. He is one of the few pioneering the gospel-alujo genre in Nigeria. Gbenjo started his musical career in 2000, although he took a break for a while to re-evaluate and came back fully in 2014.
As a creative, he was one of the pioneers of the "online praise party" that enormously gained prominence home and abroad, as people were largely entertained during the compulsory stay at home order owing to COVID-19.His online music content is consumed by a myriad of his fans.
Laju Iren
Laju Iren is a best-selling author, book-writing coach, and film maker. The gifted writer is the author of Dating Intelligently, Mirror Mirror, Selfie With Bible Girls and others.
Laju is also a film maker who wrote, directed and produced her debut film, Love is a Star, which garnered over 14,000 views in one week on her YouTube channel, Laju Iren. She wrote, directed and produced During Ever After, which has already beat its predecessor's record, gathering over 14,000 views within the first three days of launch.
Iren is the Founder of the Christian Story Teller Prize, Africa's premiere prize for Christ-centred stories. She also serves as an assistant Pastor at Celebration Church International, under the leadership of her husband, Pst. Emmanuel Iren.
Gaise Baba
Akinade Ibuoye (known under the stage name Gaise Baba) is a Nigerian Afro-fusion Artiste who sings in his native language Yoruba, English, and the Nigerian variation of English – pidgin English, often combining all three languages within his songs. An Economics Graduate (BSc) from Obafemi Awolowo University, he holds a diploma in Music Business from Berklee College of music. Beyond writing, recording and performing music, Gaise Baba is the founder of certain platforms that serve his immediate communities, and the nation at large.
He founded LightOut movement; a High-School musical outreach and concert experience employing music and art as vehicles for social impact, teen advocacy and youth mentorship. His 'A decade after album' is one of the most downloaded Christian albums of 2022 with the hit song 'Elijah Level'. Gaise also hosted his concert this year tagged 'Gaise Live In Concert'.
Spirit of Prophecy (SOP)
Energetic choristers, The Spirit of Prophecy is the worship ministry and music department of RCCG Living Seed Church Omole based in Lagos, Nigeria.
A group of anointed music ministers of God, they believe that music is an important tool for easy access to God's throne. Their hit song 'Omo Baba' a revamp of a popular Christian song became an instant hit after its release. The song is undoubtedly one of the biggest hit songs of 2022 in Nigeria. It is also one of the biggest songs used on Tiktok.
Moromoluwa Akinborewa
Moromoluwa is a gifted Christian content creator, actress, event compere and voice over artiste. She is known on instagram for her creative well depicted characters akin to individuals in the church .She refers to herself as the 'happy Soul' as a result of the joy she brings into the life of people.