#IWD: Esther Ijewere, Ariyike Akinbobola, Triciabiz, others make Nigeria's 22 Most Enterprising Women List
Visibility Solutions Media is pleased to unveil the release of its highly anticipated list of Leading Female Entrepreneurs and change makers of Nigerian descent called #E22 to commemorate the International Women's Month.
The list highlights the outstanding achievements of women entrepreneurs and change makers of Nigerian descent and their contributions to the country's economic growth and development.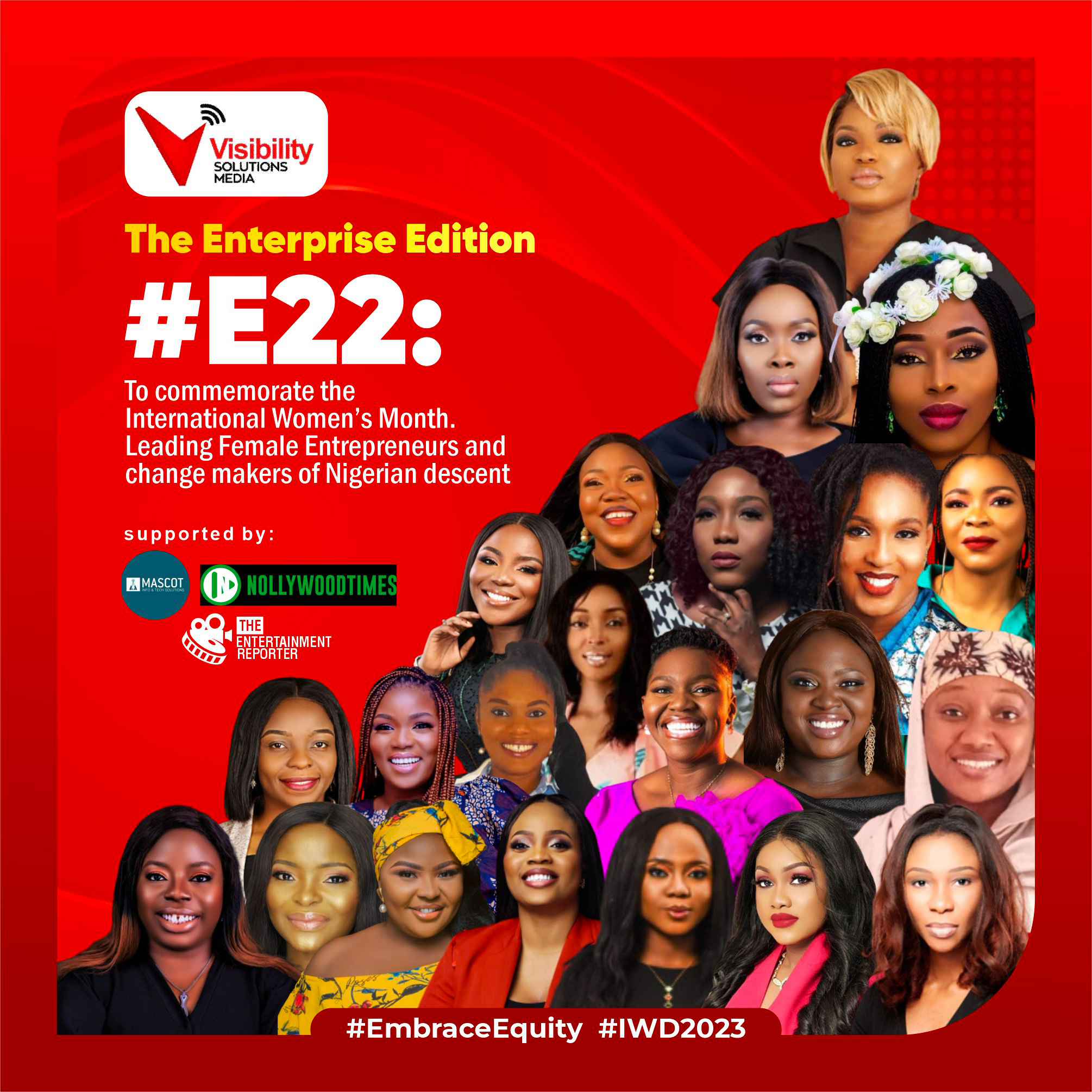 Visibility Solutions Media is pleased to unveil the release of its highly anticipated list of Leading Female Entrepreneurs and change makers of Nigerian descent called #E22 to commemorate the International Women's Month.
The list highlights the outstanding achievements of women entrepreneurs and change makers of Nigerian descent and their contributions to the country's economic growth and development.
The list features women from diverse backgrounds and industries. These women have demonstrated exceptional leadership skills, innovation, creativity, and resilience
According to the Founder of Visibility Solutions Media, Kehinde Ajose the list aims to recognize and celebrate the incredible impact of women entrepreneurs and change makers in Nigeria, who have defied all odds to excel in their various fields of endeavor.
In no particular order, we present to you #The Enterprise 22.22 leading women wave makers in commemoration of the International Women's Month.
Esther Ijewere
Esther Ijewere is an enterprising social activist, women's advocate, Columnist, Author and the Founder of Rubies Ink Initiative for Women and Children – A Non-profit outfit devoted to advocacy, development and social enterprise solutions amongst others. As a social advocate, she is the brain behind W.A.R-Walk Against Rape, an advocacy initiative created to lend a voice for the victims of rape and demand justice for the perpetrator's. Esther is also the initiator of Project Capable; a youth mentoring initiative geared towards creating a can do mentality in the lives of secondary school students. Being an emerging young leader.
Esther is the youngest recipient of The Idea Builders Women Mentoring Women Award, winning Mentee of the year 2010 and "Women Enterprise Award" from Vital Voices International & Exxon Mobil. She also won the award for "Best Use of Advocacy" from her Alma Mata; Olabisi Onabanjo University in 2012, for her contribution in fighting and creating awareness on Rape, In 2016 Esther bagged four awards for her platform Women of Rubies, notably among these award is "Young Person of the Year" and "Wise Women in Media" awards.
She unveiled her first book on rape and violence against women, titled "Breaking the Silence". The book is a guide to enlightening young women on knowledge needed to survive sexual situations. So far, it has helped to create an avenue for people to come out without feeling bad or fear being stigmatized to tell their stories and over 50,000 copies donated.
Ariyike Akinbobola
Ariyike Akinbobola is a Nigerian trained Lawyer currently working as a Senior Business Immigration Analyst at a global Law firm in Toronto, Canada. She is also a Communications coach and an Amazon Canada Best Selling Author for her book "Beautifully Coloured" – A Children's Picture Book on Kindness, Diversity, Inclusion and Positive Affirmations.
Through her Ariyike Arise Initiative Africa, she helps to fund the education of Children in disadvantaged communities in Africa.
Ariyike has won the La Mode Humanitarian award twice and she was also recognized as an Anti-Bullying Ambassador by Anti Bullying Pro UK, an initiative of the Diana Award (A charity in honor of Princess Diana, the Princess of Wales).
Ezinne Ofoma
Ezinne Ofoma is the founder of SmashGlamTouch, an award-winning professional makeup and gele outfit that specializes in helping females become confident in their natural beauty. Ofoma also trains people on how to make this happen. With over 7 years' experience in the beauty industry, she has empowered over 500 ladies, through personalized one-on-one and group sessions, on how to look smashing and glamorous for their personal use as well as on how to confidently start up their own profitable makeup & gele business with ease for commercial purposes.
She has been sought after by companies as a brand influencer to help promote their products such as Bioderma Africa which is a leading skin care dermatologist company in Nigeria. Her community of over 40,000 members' shares beauty tips and industry trends that empower the members.
Susanne Ogunleye
Susanne Ogunleye is a highly experienced administrator, holding a Biochemistry major from a distinguished institution. As a certified safety professional and public health advocate, Susanne is passionate about promoting health and wellness through innovative ideas. With 9 years of work experience, she has been involved in numerous health-related projects, ranging from the clinical hospital-based setting to the oil and gas sector, where she served as a health and safety professional.
Susanne is currently the Chief Executive Officer of Jasmine Ultra Blue Solutions, the pioneering one-stop health solutions provider in Nigeria. The company was established out of her passion for easing access to healthcare services for Nigerians.
In addition to her role as CEO, Susanne is also the current chapter lead of Future Females Lagos and a founding member of Herconomy, a non-profit organization focused on empowering women in
business and leadership.
5. Inemesit Hanson
Inemesit Hanson is the founder of Your Writing Camp, a school for writers where she helps them publish and market great books as well as teach them the business of writing. Via her brand, Your Writing Camp she has published books for celebrities and Influencers. One of such books include Filters, the book of BBNaija Reality TV Star, Liquorose. She has also worked with over 30 brands (skin care brands, food brands, makeover brands) who want to leverage writing to increase sales and visibility.
Bubbly Inemesit is the convener of the Profitable Writers Conference, conference that aims at eradicating poverty amongst writers and creatives in general. She has convened these free conferences for the past two years across Lagos state, Abuja (FCT) and Uyo, Akwa Ibom state. She hopes to expand to more states in time to come .Inemesit is also a five time author with her latest book being "It's not just Writing."
Tricia Olufemi-Olumide (TriciaBiz)
Tricia equips entrepreneurs and experts with marketing strategies, funnels, growth strategies and systems to scale their revenue significantly to 9 figures and beyond. Through her social media platforms, newsletters, and YouTube Series – 'How They Did It', she is fueling the entrepreneurship ecosystem in Africa and beyond.
In 2020, she was recognized as one of The Top 10 Marketing Coaches To Follow by Yahoo.
Cynthia Yinkere
Cynthia Yinkere s a Law graduate with a master's degree in International Business Law. She is a Certified Customer Experience Professional from the Customer Experience Professional Association (CXPA) and Nigeria's first Patient Experience Specialist from the CX University, USA. With over 18 years' experience, she began her career in Public Relations and then moved on to Product Management. She is now a passionate Customer Experience Practitioner with extensive experience in various roles across industries, primarily in the Financial Industry.
Cynthia also holds qualifications from the Chartered Institute of Arbitration, Institute of Chartered Secretaries and Administrators of Nigeria, and in Project Management. Currently, she serves as the Nigerian Membership Coordinator of the Customer Experience Professional Association (CXPA).
She is the founder and head consultant at Customer Experience Management Professional Services (CEM Professionals).Customer Experience Management Professional Services is an enterprise that was founded on April 6, 2017, with the primary goal of creating awareness about the importance of customer service and experience in the Nigerian service industry.
Mofolusade Sonaike
Mofolusade Sonaike is the MD/CEO of Mumpreneur.ng. and Trezorlandia Limited. She is popularly referred to as the Mumpreneur, she is also a gift consultant, blogger, on-air personality and an entrepreneurship advocate.
Mumpreneur.ng is a coaching platform for businesses owned by mothers. It hosts relevant information and offers training and support for mum owned businesses.She has a background in Chemical Engineering from the University of Lagos with work experience spanning 4 years in the IT, Banking and Manufacturing sectors.
Sonaike exited the corporate world in 2010 to pursue her vision when she established Trezorlandia Limited, a gift consulting business. Her experiences with this transition have led her to become a strong voice for entrepreneurs in Nigeria.
Olashile Abayomi
Olashile Abayomi is the founder and CEO of Soup-a-Market, a Nigerian soup company that is making waves in the Nigerian food industry. Olashile Abayomi has always been passionate about cooking and creating delicious meals. She recognized the need for a company that would provide healthy and affordable Nigerian soups to people who lead busy lives and do not have the time to prepare meals from scratch.
Olashile Abayomi's vision for Soup-a-Market is to make Nigerian soups accessible to everyone, regardless of their location and lifestyle. She believes that Nigerian soups are not only delicious but also nutritious and can be incorporated into any diet.
Obode Anne Omonigho
Obode Anne Omonigho is a Management Consultant at Enzo Krypton and Company, and a postgraduate student at Nigerian University of Technology and Management. With over two years' experience in Consulting, Dilianne has worked with clients spanning over 10 industries. She speaks and teaches entrepreneurs on how to start and scale their businesses. She is a media enthusiast and content creator.
Blessing Egbe
Blessing Egbe is a business coach who calls herself the MSMSE Solutions Expert. She is the founder of blooms2more, an outfit that provide business solutions to Micro, Small and Medium (MSME) businesses with absolute commitment to quality by leveraging customer acquisition and retention. Egbe is a result oriented, resilient, forward-thinking individual with 15 years verifiable extensive
experience in business growth and relationship management, customer service, sales, and marketing.
She is also a two-time business coach to finalists at the Womenpreneur Pitch-a-ton Africa and Nigeria respectively. It's an initiative in conjunction with the International Finance Corporation (IFC, a member of the World Bank Group).
Mautin Ajose
Mautin Ajose is the founder of Mautin & Co Fashion Company, proudly Nigerian brand with Mautin Temitope Ajose as the creative director and lead tailor.
Mautin & Co was founded in 2016. The brand is a one-stop-shop for ready-to-wear pieces, haute couture, and avant-garde pieces. The brand is known for its artistic excellence, use of high-quality materials and excellent customer service.
She started her fashion journey at AHIP, a government-owned youth empowerment program in northern Nigeria, where she learned the basics of fashion. Mautin furthered her fashion training at Daystar Skill Acquisition Program and Kimberly Fashion Institute. She has a degree in economics from Madonna University.
Mautin's passion for fashion has been a lifelong dream, and she has dedicated her career to perfecting her craft and building a reputable brand. Her creativity and eye for design earned her recognition in the fashion industry. She was chosen as the official costume designer for the Centenary pageant in 2014. In addition to being a successful fashion brand, Mautin also leads a training program that has trained over 50 students.
Okafor Chidiuso
Obiora Chidiuso Cynthia is a graduate of Social Works from the University of Lagos. She is an Entrepreneur and a Self-love Advocate.
She is currently the Founder/CEO of Belle Care Organic sanitary pad
As a result of her personal experience with her heavy monthly period growing up, she was prompted into her journey of creating a solution which led to the birth of Belle Care to help women enjoy a healthy and comfortable menstruation while being confident in their womanhood. She also runs an initiative where she goes to schools to educate and enlighten young girls about self care and personal hygiene.
Hauwa Shehu
As the Founder/CEO of a growing digital marketing firm, The Digi Queen, Hauwa Shehu has over 15 years of experience in communications, banking, and digital marketing. She is a strategic thinker and a creative problem solver, with a proven track record of driving growth and delivering results for her clients. Hauwa is highly knowledgeable about the latest digital marketing trends and technologies and is always looking for new ways to
innovate and stay ahead of the curve.
She is an excellent communicator and is skilled at building strong relationships with clients, partners, and team members alike.
With her academic background in Communications beginning with her BSc. From Babcock University, Hauwa holds a Master of Science (MSc.) in Media and Communication from the prestigious School of Media and Communication (SMC) of Pan Atlantic University and sister school to Lagos Business School (LBS).
Hauwa inspires leaders to be authentic, compassionate and courageous.
Maryam Wahid Ahmed
Malama Maryam Wahida Ahmed is a multi-faceted educator at the Federal College of Nigeria, Kano.
She is also a safe skincare evangelist, championing 'stop-bleaching' campaigns on social media, and offering insightful skincare advice to African women. She also helps women look attractive by giving them individual skin care challenge solutions
Ufuoma Iyare
Ufuoma Iyare also known as the Queen of Literacy is a graduate of Accounting and Finance. She holds a Post Graduate Diploma in Education. After graduation, Iyare worked in the banking sector for several years before moving to the Educational Sector.
She majors in teaching Reading and Literacy. Ufuoma has taught English and Reading at the Early Years, Primary and Adult Education Level where she records 95% success in teaching learners who have been termed difficult to teach reading.
The delectable amazon runs a literacy academy where she trains teachers on *Jolly* *Phonics*, the best methods and ways to teach literacy in a fun and interactive manner to learners and even the teachers themselves.
She consults for schools in her area of specialty and has trained so many schools on Setting Up A Star Reading Program using the Jolly Phonics Model.
17. Priscilla Iyari
Priscilla is an astute Corporate Communications, Brand, and Consumer Marketing Professional with over a decade's worth of experience building local and global brands across various industries, such as: Financial Services, Technology, Sustainability, FMCG, Creative, and Sports. She is an alumnus of the prestigious Cannes Young Lions Award, and the Atlas Corp Leadership Institute, and has core competencies in Integrated Marketing Communications, Brand Quality Assurance, Communications Strategy, Procurement, Project Management, Multilateral Stakeholder Management, Negotiation, ESG, and Sustainability.
Her wealth of experience spans across creating efficient communication solutions for various brands in the best Public Relations/Perception Management Agencies, a Management Consulting firm, and a Radio station, as well as in a number of multinationals. She has launched innovative products like ALAT, Africa's first fully digital bank, Smoov Chapman, Nigeria's first on-the-go Chapman; managed major media crises, developed numerous sustainability ideas, and executed several effective marketing communications
Priscilla is the Founder/Champion of 'TAVS with Priscilla': a digitally-led mentorship initiative for young ladies from ages 24-34, which is in line with this year's International Women's Day theme: 'DigitALL: innovation and technology for gender equality'.
Onyinye Oguego
Onyinye Oguego is a visionary leader and innovative business development professional with a track record of driving growth and transformation across multiple industries and sectors. Her unique perspective and exceptional leadership have made her a force in the Nigerian business community.
Over the course of her career, she has held a variety of positions in entrepreneurship, management consulting, non-profit management, and roles at multilateral agencies.
As a member of the team that built Simplified Credit, Onyinye played a key role in creating a platform that now provides over 250,000 small business owners in Nigeria with automated viability evaluation and business planning.
Currently, Onyinye is the CEO of MyStash, an innovative fintech company that is transforming the financial landscape in Africa. Under her leadership, MyStash has become a force for positive change, helping Africans build financial safety nets and make better money moves.
Esther Solarin
Esther Solarin is a sought after certified family life therapist. She is the founder of Imole Counselling and therapy services .Imole Counselling is a counselling outfit that provides sound godly professional counsel for singles and married. Delectable Esther is also the founder of Marriage Worthy Nertwork, a community where people who desire to have marriages of the God kind are nurtured and strengthened.
She is the author of three books and a podcaster. Esther also spearheads the philanthropic project called 'Widows Love Project'.
20 Margarita Stephen
Margarita Stephen is the founder of Ritzy Fashion, a female-focused fashion brand. Ritzy Fashion offers a wide range of female wears, including casual, aseobi, dinner, party, and beachwear. In addition to tailoring, Ritzy Fashion also provides services in bracelet making, ankara book cover, and headwear design.
The outfit also partners with other fashion brands to increase visibility, stay up-to-date with the latest fashion trends, provide excellent customer service, and maintain high-quality standards in products.
Maryam Muritala
Maryam Muritala is an internationally trained Legal professional who was called to the Nigerian Bar in 2008. She worked in the Corporate Sector with various companies with a huge focus on Business and Technology law before relocating out of Nigeria. She is also a seasoned and Award-winning Entrepreneur, who has helped individuals launch successful businesses across different Continents.
When she got to Canada in 2016, she realized there was a gap in the Canadian BIPOC Business Community, for a structured platform to connect businesses and provide visibility. In 2017 she launched Canada Vendors in the City of Brampton, it is a Business Development and Advertising Hub which creates structured visibility for business owners using Digital marketing tools, business networking events, and Customized marketing campaigns.
She was recently awarded one of the Top 100 Black women to watch in Canada in 2022 by Canada International Black Women Excellence for her contributions to the Business Community in Canada and the Award in Business Innovation 2023 by the City of Brampton, Ontario Canada.
Joy Oghenemano
Joy Oghenemano is the Founder and CEO of Valuebased Technology and Digital Services Limited a digital agency focused on creating Tech Solutions for businesses. Some of our tech solutions are EdTech( School Management System), Hotel Management application, and the new innovation AgriTech solution. Valuebased Technology creates state-of the-art websites, mobile and web application and offers digital marketing services to grow brands online.
Oghenemano is a creative, innovative, ambitious, self-motivated lady with almost a decade of successful experience in
web development, digital marketing, education and training, especially teenage girls in the area of IT. One of Joy's strong skills is the ability to impact knowledge. She is passionate about training more women in technology especially.