Marriage scares me-Mr Macaroni laments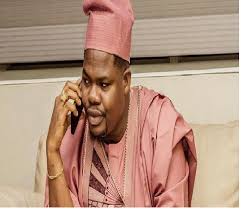 Popular skit maker, Debo Adebayo aka Mr Macaroni, has declared he is not getting married anytime soon.
The #EndSARS campaigner told an inquisitive fan on Twitter why he made the decision.
The fan simply identified as Bola curious about the comedian's plan for marriage quizzed; "Are you considering getting married anytime soon??"
Responding to the fan, the "Freaky Freaky" crooner replied in the negative adding, he is scared of marriage.
"Nooooooooo!!!! Marriage scares me. I haven't been in a relationship since my time in HNAUB … That's like 2011-2012," he tweeted.
The Entertainer Reporter recalls that the actor recently said that he attended four different universities at different times.
"He wrote, "So here are some facts about me. For those that keep asking… These are pure facts. If you have questions, you can ask. I am Adebowale Adedayo, born in Lagos on the 3rd day of May 1993. Into a Muslim and Christian Family. I answer David and Ibrahim.
"My state of Origin is Ogun. I'm from Abeokuta precisely. I attended Tendercare International Nursery and Primary school in Ojota, Ogudu. Now at Magodo Isheri. So I be Ojota/Magodo boy. I started secondary school in 2002. @ Babcock University High School.
"I went to 4 Universities. I gained admission into LeadCity University in 2009. I was studying law at the time. In 200L, our school had accreditation issues, we started to protest, things got hot. I had to leave the school. Lol. I miss City sha. Sweet school like this
"From there, I went to Houdegbe North American University Cotonou in 2011. I was still studying law there… I cos small wahala ? I had to leave. From there I went to Afe Babalola University in 2012… it was there I decided to go back to my first love; Theatre. As Law don tire me.
"One thing led to the other, I had to leave ABUAD ? And that was when I went to Redeemer's University in 2013 to study Theatre Arts. Small wahala happen. But everything settle las las… I finished there got my certificate and the rest is history."