Brymo shines at 'Blasphemy' concert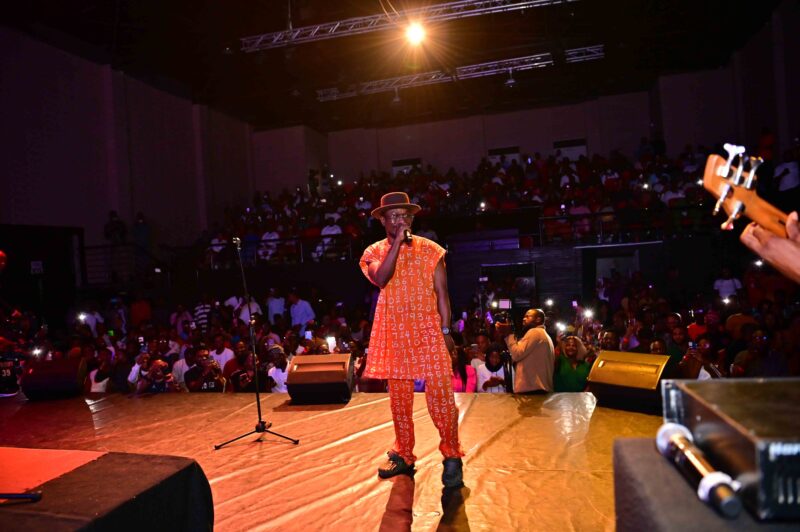 When you think of gifted Nigerian singer Brymo, words like remarkable and afrocentric comes to mind. He displayed these traits at his 'Blasphemy' concert on Saturday 25th of June 2022 at Terra Kulture, V.I, Lagos.
The duo of comedian Omini and Jim baba spiced the concert with their hilarious jokes which further got the audience ecstatic.
Clad in a native Ankara attire, the 'Heya' crooner got the audience cheering excited as he mounted the stage that Saturday night. He apologized for the late start of the concert and joked about the main act of some other concerts mounting the stage in the wee hours of the morning.
Brymo's fans expressed delight about his electrifying performances and sang along as he serenaded them with songs like "Afedu f'aana", "Meji Meji", "Alajo Somolu" and others.
The concert also saw performances from young artistes like Bumi Thomas, Reformdelacruz, Tunde Gautier, Jugo Aces, Noël Mio, among others. The event was put together by Xponential Media and Allevents.ng
Nominated in 6 different award categories in the upcoming Headies Award, the artiste has touched many with his soul- stirring songs like 'Brymstone', 'The Son of a Kapenta', 'Tabula Rasa', 'Yellow', '1 Pound' and a long list of other touching tunes.