I dread losing my mother-Laycon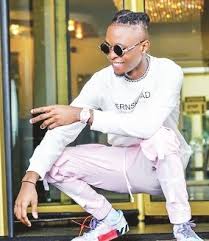 Rapper and reality TV star, Laycon has stated that he is afraid of losing his mother.
The entertainer made this known in a recent interview with Chude Jideonwo, the media personality.
The 'Verified' singer said: "Losing my mum, that's it," he said when asked what he's most afraid of in life.
"It's something that I dread because you know it's going to happen at a point, that's if I don't leave before she does. That's one thing that I dread."
Laycon added that those who expect him to live a "perfect life" without any vulnerability due to his perceived intelligent personality.
"Something everybody needs to understand, because I am naturally intelligent doesn't mean I'm not human, doesn't mean I can't love, doesn't mean I can't show my emotions, doesn't mean I can't be hurt," he added.
"That's also what I'm trying to let people know, that I am who I am and a part of me is somebody who can get hurt. You may not want to hurt me but I'll be hurt, that doesn't make you a bad person if I get hurt by your actions. Your actions are genuinely pure, but if I'm hurt by it it means I have to deal with it.
"That's also something that you as a human being would also have to figure out, because somebody's actions hurt you doesn't mean those actions are bad."