Mercy Aigbe's husband fumes as first wife claims she furnished their house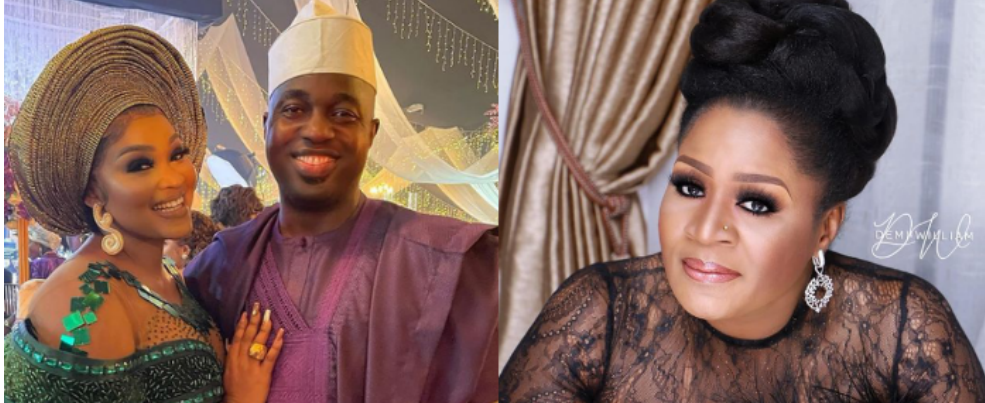 Kazim Adeoti, Mercy Aigbe's new husband, has debunked a claim by Funsho, his first wife, that she exclusively furnished their matrimonial home.
In an Instagram post on Sunday, Funsho had issued a warning to the couple to "stop pushing" her.
"@realmercyaigbe, @adekazproduction for the last and final time, stop pushing me. Kazim, do the needful. Pull it down. You've been warned, 12 hours only," she wrote, not specifying what should be pulled down.
But in another post, Funsho said that the warning was because Mercy was taking pictures and sharing them on social media in a house "I furnished with my hard-earned money".
Kazim, however, refuted Funsho's allegations that she was the only one who furnished their matrimonial home.
The businessman said although his first wife had provided some furnishings for their home, "I built the house himself".
He also claimed to have refunded part of the money to Funsho, adding that Mercy also contributed to furnishing their house.
"In as much as there is nothing bad in husband and wife building house together, in my case, we did not. I built the house by myself," he wrote in a now-deleted post.
"When I was furnishing the house, she bought some furnishing materials and part of the money, I have refunded to her.
"My second wife had added some furnishing to the house as well. It is not in my character to speak I'll of people who were once my true not to talk of my first wife (who is still my wife as we speak).
"I will not speak ill of her for the sake of the good and bad times we shared and the good kids God gave us.
"It is understandable that my first wife is unhappy about getting a second wife but she gave me no choice when she relocated permanently to the US.
"I'm a Muslim and Islam permits me to marry more than one wife as long as I take care of them and I don't maltreat them. I can stand before God and man that as a man, I have done my best not to maltreat them."