Mercy Aigbe sleeping with Kazim Adeoti since 2010-Estranged wife claims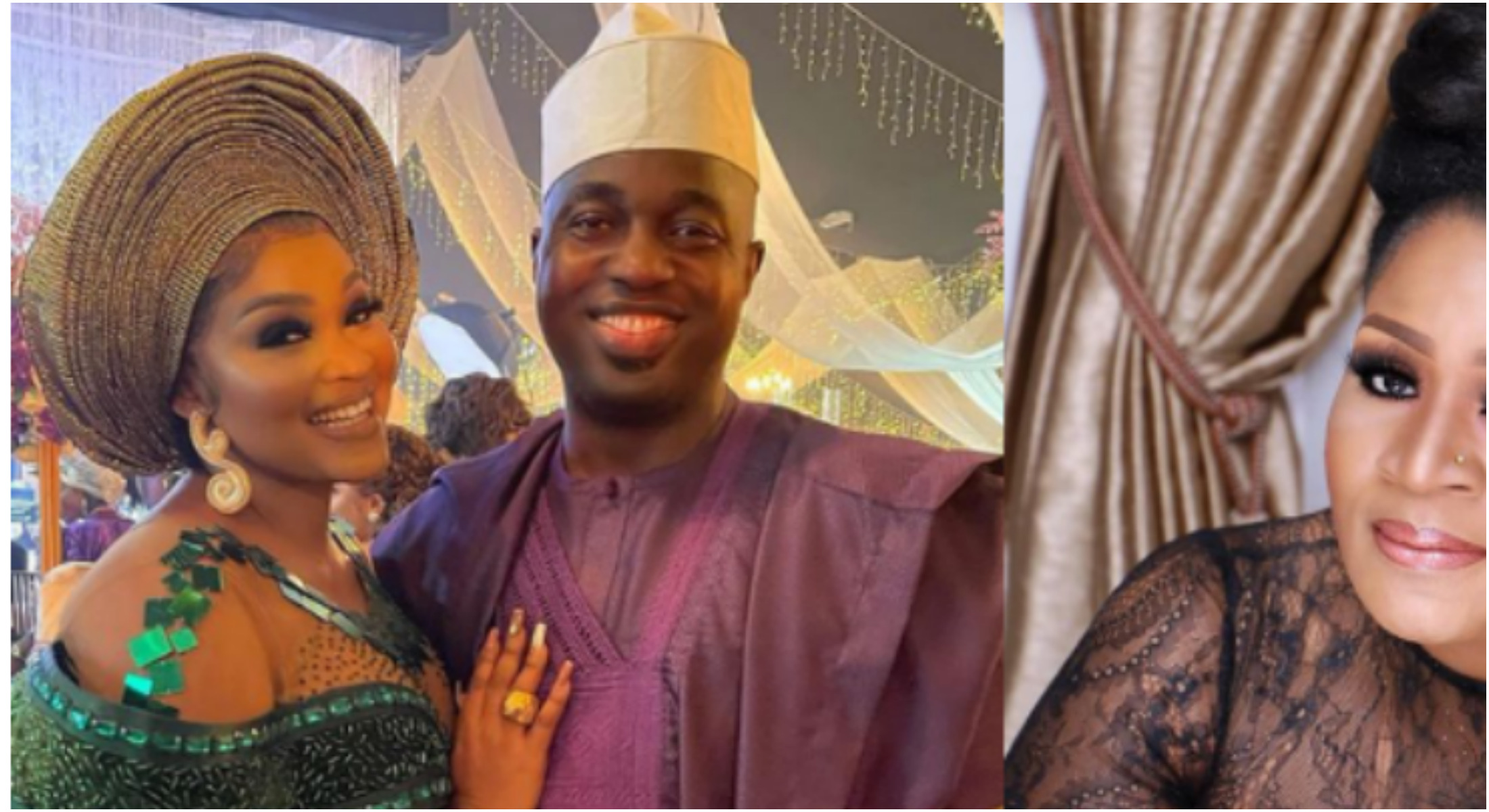 Oluwafunso Asiwaju, the estranged wife of popular movie marketer, Kazim Adeoti, has claimed that her husband had been having sexual relations with actress Mercy Aigbe, who was now his second wife.
In a statement on her Instagram page on Friday night, the mother-of-four said that she was friends with Aigbe but the actress "repaid" their friendship by sleeping with her "soon-to-be ex-husband."
Oluwafunso wrote the statement in response to a recent interview Aigbe and Adeoti had with Media Room Hub.
During the interview, Mercy had stated that she was happy to be a second wife while Kazim, who broke the silence on his second marriage, noted that his first wife was pleased with the new arrangement.
Debunking the claim, Oluwafunso wrote, "Let's get the record straight here. This post is regarding an interview recently going around by Media Room Hub with my soon-to-be ex-husband in one of his numerous lies.
"I want you all to know that in contrast to what Mr Adeoti said, I did NOT and will NEVER SETTLE to have a second wife in my marriage to him.
"Kazim, you should stop painting a perfect picture of a marriage you clearly do not have with me, Oluwafunso Asiwaju Couture.
"You and your sidechick can continue with whatever it is you are doing, BUT NEVER come out to social media degrading me or my children with your demeaning and childish attitude. I will not stoop to your level of rubbish and stupidity."
Responding to Mercy's claims that there were never friends, Oluwafunso said, "As for you Mercy, let's cut the crap. We were friends, but the shame and your glam lifestyle will not let you admit it.
"You have been sleeping with Kazim since your son was only 5 months old. I introduced you to Kazim as my friend. I called and personally invited you and your ex-husband to the 40th surprise birthday party I did for my soon-to-be ex-husband."
Mercy had welcomed her son with her ex-husband, Lanre Gentry, in June 2010. Going by Oluwafunso's claims, the actress have had sexual relations with Kazim since November 2010.
The ace actress separated from her ex-husband in 2017 after she alleged that she suffered domestic violence in her marriage.
Oluwafunso continued, "You were a constant friend of mine back then. I brought you close as a friend because I liked you, but you repaid me by sleeping with my husband, Kazim .
"You were a problem in my marriage for YEARS. Now I'm happy to let you know this is only the beginning of the end for you.
"I'm DONE. He's all yours, ENJOY. I'm really past this. Like I said in my first post, 'Losing someone who does not respect or appreciate you is actually a gain, not a loss.'"
Though Mercy has not responded to Oluwafunso's claims, the actress seemed unperturbed as she shared a picture on her Instagram page on Saturday morning.
She hailed herself as an Alhaji's wife saying, "AgbekeAde, Iyawo Alhaji."
Greeting her fans, Aigbe said, "Good morning my lovelies. May you all have a day filled with abundant blessings."