SAD! Man, 38, seeks 17m for kidney transplant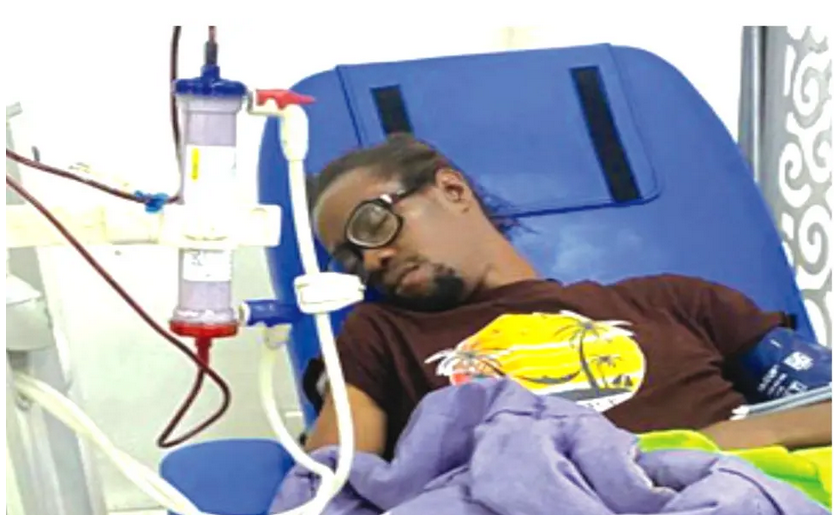 Makua Ifeanyi Olajide Onwuachu, a patient of End State Kidney Disease due to complications of diabetes, is hanging on to life only by a thread. The 38-year-old who hails from Oba, Idemili South LGA of Anambra state, requires an urgent kidney transplant to restore his health and lease of life.
In a chat with Vanguard, Makua revealed that the obstacle between him and the life-saving kidney transplant surgery is the sum of N17 million.
Makua who has been undergoing treatment in the form of dialysis and supportive medication at the Zenith Medical and Kidney Centre, Abuja, is appealing for the support of kind-hearted Nigerians and corporate organisations, to raise the fee of the surgery.
A medical report from the Zenith Medical and Kidney Centre signed by Dr Oseni Y. noted that Makua, with Hospital No. 216574 is a known patient with hypertensive disorder and diabetes, and now with end-stage kidney disease.
"He presented for the first time to the facility on the 15th of June 2022 for further management and also desirous of a kidney transplant. He was first diagnosed with chronic kidney disease in 2020 and had been on conservative treatment, however from this year, the patient is noted to have become anuric."
According to Oseni, Makua has not had a kidney biopsy done and was yet to commence hemodialysis, but has now commenced hemodialysis and had three sessions with the last being on 17th June 2022, in addition to having had four blood transfusions, even as he is currently on medication."
Further, Makua disclosed that he undergoes dialysis twice weekly, an activity that is already a huge financial burden. "I have long stopped working and I'm confined to the bed. It is with utmost humility and respect that I, solicit the kind intervention and assistance from Nigerians in raising N17 million to facilitate the surgery. This financial implication includes the cost of the donor and recipient evaluation plus the surgery."
Lamenting his condition, Makua's fiancée, Keren, appealed for assistance.
If you are moved to assist, kindly send your donation to Makua Ifeanyi Olajide, Account Number 5001456919, Standard Chartered Bank, or donate to the Gofundme account: https://gofund.me/97d5024f. or call 08103662400, 08039735068 .