First batch of Nigerians evacuated from Sudan arrive Abuja, get N100k each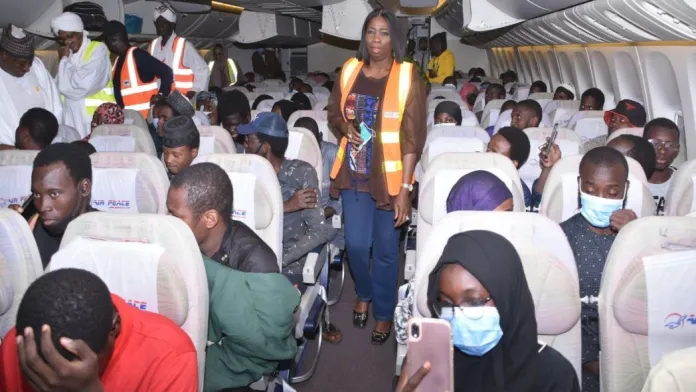 The first set of Nigerian evacuees from war-torn Sudan arrived Abuja on Wednesday night.
Minister of humanitarian affairs Sadiya Farouq received them at the Nnamdi Azikiwe International Airport, Abuja.
She presented the sum of N100,000, N25,000 worth of recharge cards and 1.5 gigabytes of data to each of them.
Farouq stated that the cash and other gifts given to the returnees were done to make them comfortable as they return to the country.
She said, "Today, we are very happy to receive them. They have gone through a very traumatic period but we give thanks to Almighty Allah that all of them are back safely. No life was lost which is the most important thing. All the efforts put in place were not in vain. I thank every member of the Committee that has put all efforts to ensure that these people are brought back safely and with dignity. We thank the transport companies for their support.
"There is N100,000 that would transport them back to their families which is supported by the Dangote Foundation by giving them the transportation fare as well as the dignity kits and also 25,000 recharge cards from MTN and 1.5 GB data courtesy of MTN. All efforts have been put in place and everyone has contributed to ensuring that at least these Nigerians have some comfort when they return home."
The minister said a total of 376 persons arrived in the country from Eygpt.
She said the Air Peace aircraft conveyed 282 persons while that of the Nigeria Air Force evacuated 94.
Farouq said, "Today, we have received the first batch of the evacuees. The C130 aircraft of NAF brought about 94 of them while the Air Peace which I commend and appreciate the Chairman/CEO for the support and bringing back our nationals. They brought back about 282 Nigerians.
"They will be in the hall and they will go through a process of profiling and after which they will go through the immigration and they will be given their dignity packs for them to get back to their respective destinations. Some of them, their family members are here to receive them while others would be under our care until they get to their families."