AMVCA 2023: Brotherhood, Anikulapo, others battle for Best Movie Award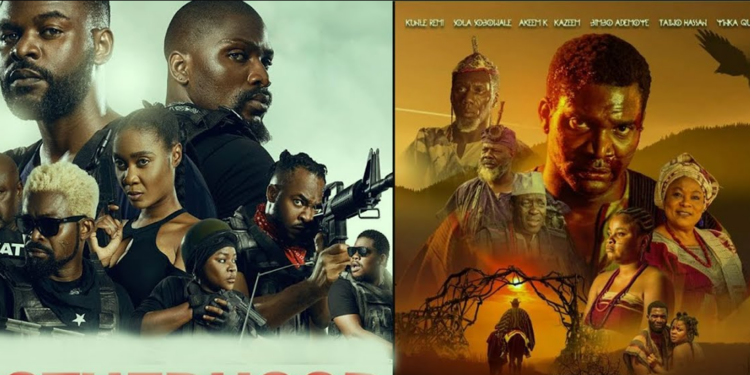 The list of nominees for the 2023 edition of the African Magic Viewers' Choice Award has been released by the event's organisers.
The popular actresses Bisola Aiyeola and Adjetey Anang, as well as the young actors Jasmine Olarotimi and Nifemi Lawal from the well-liked Africa Magic original series, hosted the nomination announcement, which aired on African Magic channels on Sunday.
Anikulapo received the most nominations of the evening—16—followed by Brotherhood, which was nominated in 11 categories, and Shanty Town, which received 11 nominations.
King of Thieves (Agesinkole) by Femi Adebayo, Battle on Buka Street by Funke Akindele, Brotherhood by Jade Osiberu, Anikulapo by Kunle Afolayan, Ile Owo by Kayode Kasum, Tembele by Mugisha Morris, and Four Four Forty-Four by Winifred Mena-Ajakpovi will compete for the award for Best Overall Movie.
The 9th edition of the prestigious award is set to hold in Lagos on the 20th of May 2023.
Below is the full list of nominees
Best Actor in A Comedy
Adokiye Horsfall (Romeo WJ) Inside Life
Charles Etubiebi -Just Friends
Charles Inojie- City Hustler
Chinedu Ikedieze- Aki and PawPaw
Kunle Idowu- Unintentional
Nedu Ani (Nedu Wazobia)- Inside Life
Nkem Owoh- Battle On Buka Street
Nosa Afolabi- The Razz Guy
Samuel Perry (Broda Shaggi)- Inside Life
Samuel Perry (Broda Shaggi)- Survivors
BEST ACTOR IN A DRAMA
Blossom Chukwujekwu- The Trade
Chidi Mokeme- Shanty Town
Chimezie Imo- Choke
Daniel Etim-Effiong- Kofa
Femi Adebayo- King of Thieves (Agesinkole)
NKakalukanyi Patriq- Tembele
O.C. Ukeje- Black Mail
Richard Mofe Damijo- Four Four Forty Four
Tobi Bakre- Brotherhood
Tope Tedela- All The Colours Of The World Are Between Black and White
BEST ACTRESS IN A COMEDY
Albert Oluwatoyin-Visa On Arrival
Bimbo Ademoye- Selina
Funke Akindele- Battle On Buka Street
Grace Wacuka- Married to Work
Mercy Johnson- Battle On Buka Street
Mercy Johnson Onogie- Passport
BEST ACTRESS IN A DRAMA
Bimbo Ademoye- Anikulapo
Enado Odigie- Flawsome
Immaculata Oko Kasum- Ile Owo
Ini Dima-Okojie- Flawsome
Ini Edo- Shanty Town
Nimo Loveline- The Planters Plantation
Nse Ikpe-Etim- Shanty Town
Osas Ighodaro- Man of God
Queen Nwokoye- Strained
Scarlet Gomez- Wura
BEST SUPPORTING ACTOR
Abdisattar Ahmed- Gacal
Bucci Franklin- The Razz Guy
James Webbo- County 49
Jeff Roberts Walusimbi- Bedroom Chains
O.C. Ukeje- Brotherhood
Taiwo Hassan- Anikulapo
Yinka Quadri- Anikulapo
BEST SUPPORTING ACTRESS
Dorcas Shola Fapson- Man of God
Efe Irele- Four Four Forty Four
Gina Castel- Kofa
Ivie Okujaye- On Your Own
Sola Sobowale- Anikulapo
Teniola Aladese- Love in a Pandemic
Toni Tones- Brotherhood
BEST SHORT FILM
Adeoye Adetunji- Pa Aromire
Gbenga Salu- Convictus
Nkem Nwaturuocha- The Song Maiden
Teniola Zara King- Teju's Tale
Usama Mukwaya, Loukman Ali- Sixteen Rounds
Uzoamaka Aniunoh- Love Language
Victor Onwudiwe, Goodnews Erico Isika- Away
BEST ONLINE SOCIAL CONTENT CREATOR
Abiola- VIP Bathroom
Adeaga Bukunmi- Fake Alert with Mercy Johnson
Bimbo Ademoye- Iya Barakat Teropi Secxxion
Edem Victor- The Activist
Elozonam , Kie Kie- Back From The Future
Isbae U- My Sweet Mother In-law
Kenzy Udosen- Quick Pronunciations
Oluwadolarz and Abayomi Alvin- Soldiers at War (Compilation)
Steve Chuks- Husband's Side Chick
Tee Kuro- Nollywood Epic Love Story Parody (The Finale
BEST ORIGINAL TELENOVELA
Covenant
Dede
Huba
Itura
Mahinga
Maida
Mpali
Prestige
Salem
BEST UNSCRIPTED ORIGINAL
Come Play Naija
Judging Matters
Kan-See-Me
King Bugar
Off Air with Gbemi & Tools
Rock that Aisle Again
Sakofa
BEST ORIGINAL COMEDY SERIES
Co-Habits
Flatmates
Mussulando
My Siblings and I
Njoro Wa Uba
Popi
RSM
The Johnsons
The Return of Original Comedy
Uncle Limbani
BEST ORIGINAL DRAMA SERIES
A Infiltrada
Accra Medics
Dirty Laundry
Junior Drama Club
Njila
Pazia
Pete
Ricordi
The Rishantes
To Have and To Hold
Unmarried
BEST ART DIRECTOR
Olalekan Isiaka- Shanty Town
Olatunji Afolayan- Battle On Buka Street
Olugbenga Ogunshina and Joy Kadiri- Brotherhood
Pat Nebo & Temple Chima Adighije- Crime & Justice
Toka Mcbaror- Almajiri
Uche Nwaohiri & Tunde Lawal- Diiche
Wale Adeleke- King Of Thieves (Agesinkole)
BEST COSTUME DESIGNER
Adeola Art-Alade- The Real Housewives of Lagos Reunion Episode
Bolanle Austen-Peters, Clement Effanga, Juliana Dede- Man of God
Bunmi Fashina , Tiannah Empire & Secrets of April- Shanty Town
Ezugworie Franca- Brotherhood
Kingsley Okoye Rex- Nnewi The Land of Gold
Millicent Jack- Four Four Forty Four
Toyin Ogundeji- Anikulapo
BEST LIGHTING DESIGNER
Francis Wanyahdeh- Crime & Justice
Francis Wanyahdeh & Ebuka Enejere- Diiche
Godwin Lawal- Tarella
Ismail Adewunmi- Ile Owo
Lanre Omofaiye- Anikulapo
Mathew Yusuf- Brotherhood
Muri Salami- Four Four Forty Four
Renaldo Van Den Berg, Emmanuel Patrick, David Otuokere- Real Housewives of Lagos
Segun Adeleke- Flawsome
Walter Odhiambo- Shanty Town
BEST PICTURE EDITOR
Adio Solanke- Ile Owo
Banjo Onyekachi, Winston Aig-Ohioma, Oluwaseun Adeosun- Diiche
Holmes Awa & Daniel Tom- Crime & Justice
Kimera Paul- Tembele
Martini Akande- Brotherhood
Sanjo Adegoke- King of Thieves (Agesinkole)
Steve Sodiya- Ijakumo the Born Again Stripper
Temitope Folarin- Anikulapo
Valentine Chukwuma- Battle on Buka Street
BEST SOUND EDITOR
Anu Afolayan- Anikulapo
Dare Olaitan, Adio Solanke- Ile Owo
Fredrick Karumba- Click Click Bang
Grey Jones- The Set Up 2
Ismail Kyobe Ssebowa- Bedroom Chains
Kazeem Agboola- Ijakumo the Born Again Stripper
Kolade Kayode Morakinyo- Shanty Town
Kolade Morakinyo, Pius Fatoke- Battle On Buka Street
Q Rodney Abia, Angelo Anosike, Kayode Kasum- Obara' M
Shiloh Godson- Black Mail
BEST SOUND TRACK
Abiola Olayinka, Habeeb Adebayo- L.I.F.E.
Adam Songbird and Tolu Obanro- King of Thieves (Agesinkole)
Gbas Gbos by Tolu Obanro and Adam Songbird- Battle on Buka Street
Jaysynths and Hotkid- Shanty Town
Joel Christian Goffin- Black Mail
Kent Edunjobi- Anikulapo
Q Rodney Abia, Angelo Anosike, Kayode Kasum- Obara' M
BEST MAKE UP
Carina SFX- The Trade
Feyzo Artistry- Ile Owo
Francisca Otaigbe- King of Thieves (Agesinkole)
Hakeem Effects Onilogbo- Anikulapo
Hakeem Effects Onilogbo, Jemila Sedik- Battle on Buka Street
Maryam Ndukwe , Hakeem Effects Onilogbo- Shanty Town
Sandra Oyiana-Ogbeni- Tarella
BEST WRITER
Funke Akindele, Jack'enneth Opukeme, Stephen Oluboyo, Jemine Edukugho- Battle on Buka Street
Jade Osiberu- The Trade
Sodi Kurubo, Stephanie Dadet and Victor Aghahowa- Diiche (Episode 5)
Sola Dada- Anikulapo
Tunde Apalowo and Jeffery Musa David- Kanaani
Uche Ateli- Choke
Yinka Laoye- King of Thieves (Agesinkole)
BEST CINEMATOGRAPHER
Charles Oleghe- Diiche
Ekuka Ishaq- Tembele
Idowu Adedapo- Ijakumo the Born Again Stripper
Idowu Adedapo (Mr Views)- Flawsome
Jonathan Kovel- Shanty Town
Jonathan Kovel- Anikulapo
Loukman Ali- Brotherhood
Mex Ossai, Philip Okpokoro, Esmond Igho, KC Obiajulu, Goke Oyerinde- Real Housewives of Lagos
Paul Gambit- Jolly Roger
Yinka Edward- Crime & Justice
BEST MOVIE SOUTHERN AFRICA
Elvis Chucks- Jewel
Emmanuel Mwape- Silver Lining
Leburugraphy- Ke Bona Spoko
BEST MOVIE EAST AFRICA
Click Click Bang- Philip Karanja Njenga
Elenor Nabwiso- Karamoja
Gashumba Emmanuel- Dial M for Maya
Hassan Mageye- Bedroom Chains
Lucy Mwangi- Baba Twins
Mugisha Herbert Morris- Tembele
Nadira Shakur- Married to Work
Omar Hamza- Gacal
Wilson Nkya & Jane Moshi- Frida
Wilson Nkya & Philipo Ngonyani- Mvamizi (The Intruder)
BEST MOVIE WEST AFRICA
Brotherhood- Jade Osiberu
Chris Odeh- Choke
Kayode Kasum- Obara' M
Kunle Afolayan- Anikulapo
Rent-A-Studio & Native Media TV- Kanaani
Samira Yakubu- Red Carpet
Winifred Mena Ajakpovi- Four Four Forty Four
BEST TELEVISION SERIES
Adeola Art-Alade & Dare Art Alade- Real Housewives of Lagos
Bovi Ugboma, Ann Obaseki- Visa On Arrival (Season 1)
Dimbo Atiya, Rahama Sadau, Safina Mellisa- The Plan
Grace Kahaki & Philippe Bresson- Single Kiasi
Ife Olujuyigbe, Kayode Kasum- When are we getting married
James Omokwe- Diiche
Millicent Ogutu- County 49
Tola Odunsi & Akin Akinkugbe- Flawsome
Vincent Nwachukwu- Game On (Season 2)
Yinka Edward- Crime & Justice
BEST DOCUMENTARY
Best Okoduwa- 100 of Us
Charles F. Solomon- Way to the Top
Charles F. Solomon; Oluchi Nsofor; Aaron Olayemi; Famous Odion- Green: The Amazons
Chude Jideowo- Awaiting Trial
Nathaniel George- Truck Blind Spot
Nora Awolowo- Nigeria-the Debut
Nora Awolow- Baby Blues
BEST DIRECTOR
Adebayo Tijani and Tope Adebayo- King of Thieves (Agesinkole)
Babatunde Apalowo- All The Colours of the World are between Black and White
Bolanle Austen-Peters- Man of God
Dimeji Ajibola- Shanty Town
Jade Osiberu- The Trade
Kunle Afolayan- Anikulapo
Loukman Ali- Brotherhood
Mugisha Herbert Morris- Tembele
Obi Emelonye- Black Mail
Tolu Ajayi, Fiyin Gambo, Ifeoma Chukwuogo, James Omokwe- Diiche
THE MULTICHOICE TALENT FACTORY FILM
A Quiet Intruder
Cheza
Leaked
Revisit
Stinger
Strings
BEST INDIGENOUS LANGUAGE – SWAHILI
Daniel Manege- Mpiganaji
Freddy Feruzi- Dau
Malcom Hamisi- Barakatatu
Philip Karanja Njenga- Click Click Bang
Phoebe Ruguru & Njue Kevin- Safari
Wilson Nkya- Mvanmizi – The Intruder
Wilson Nkya & Jane Moshi- Frida
BEST INDIGENOUS LANGUAGE – YORUBA
Funmi Bank Anthony Abdullahi Abdulrasaq- Abebi Seranko Seniyan
Karamot Adeboye- Morenikeji
Kunle Afolayan- Anikulapo
Okusanya Bayonle Samson- Mr Raji
Ololade Tijani-Ebong- Ogeere
BEST INDIGENOUS LANGUAGE – HAUSA
Abubakar Bashir Maishadda- Aisha
Evans Ejiogu- Kwana Casa'in
Nancy Yiljep- Guzama
Ty Shaban- Lulu Da Andalu
BEST INDIGENOUS LANGUAGE – IGBO
Brown Ene, Victor Onwudiwe, Ben Cassie- Ifediche
Shileold A. Ibironke- Ijeoma
Shileold A. Ibironke- Ego Mbute
Trinity Ugonabo- The Bride Price (imego)
Victor Iyke- Uhuruchi
BEST OVERALL MOVIE
Femi Adebayo- King of Thieves (Agesinkole)
Funke Akindele- Battle on Buka Street
Jade Osiberu- Brotherhood
Kayode Kasum- Ile Owo
Kunle Afolayan- Anikulapo
Mugisha Herbert Morris- Tembele
Winifred Mena-Ajakpovi- Four Four Forty Four