Trouble as group petitions censors board over use of Eyo in Gangs of Lagos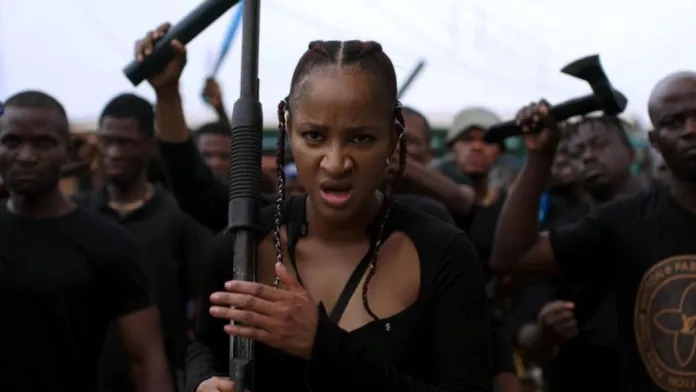 The Isale Eko Descendants' Union (IDU) says it has written a petition to the National Film and Video Censors Board (NFVCB) over the use of the Eyo masquerade in Jade Osiberu's movie Gangs of Lagos.
A statement signed by chairman of the union Yomi Tokosi said very false and disturbing violent images of Isale Eko and the Eyo masquerade were created in the movie co-produced by Osiberu and Lala Akindoju.
According to IDU, "the unique Eyo masquerade indigenous to the Isale Eko community in Lagos was illegally and scandalously depicted as being used as a camouflage, decoy and subterfuge for murderers and gangsters operating in the Isale Eko area."
Contrary to the image of a gun-wielding masquerade operating as a killing machine, Mr Tokosi said "Eyo is known as a masquerade for celebration in Lagos Island and not an instrument of gangs of criminals as illegally and scandalously portrayed."
He added that the movie which stars Tobi Bakre, Adesua Etomi, Iyabo Ojo, Toyin Abraham, Eniola Badmus, Bimbo Ademoye, Chioma Akpotha, Mr Macaroni, Pasuma and Zlatan Ibile among others, has brought the Eyo masquerade and the people of Isale Eko into disrepute as they are now deemed criminally minded in the eyes of right thinking members of the society.
"The Isale Eko Descendants' Union is very disturbed that the culture and tradition of Isale Eko can be wantonly exploited in such a despicable and insensitive manner by Amazon and Prime Video to the detriment of the Isale Eko community.
"The illegal and scandalous depiction of the Eyo masquerade in the movie is actionable and a petition has been lodged by the IDU with the National Film and Video Censors Board (NFVCB) including other major stakeholders.
"The IDU has among other things requested that the NFVCB withdraws the approval granted to the movie Gangs of Lagos and direct the withdrawal of the movie from all viewing channels available to the public. The IDU and other community stakeholders will also be considering legal action for the damage done to the culture, tradition and image of the Isale Eko community and the Eyo masquerade," the statement concluded.