Baba na hustler – Reactions as BBTitan's Marvin is recognized from multiple TV shows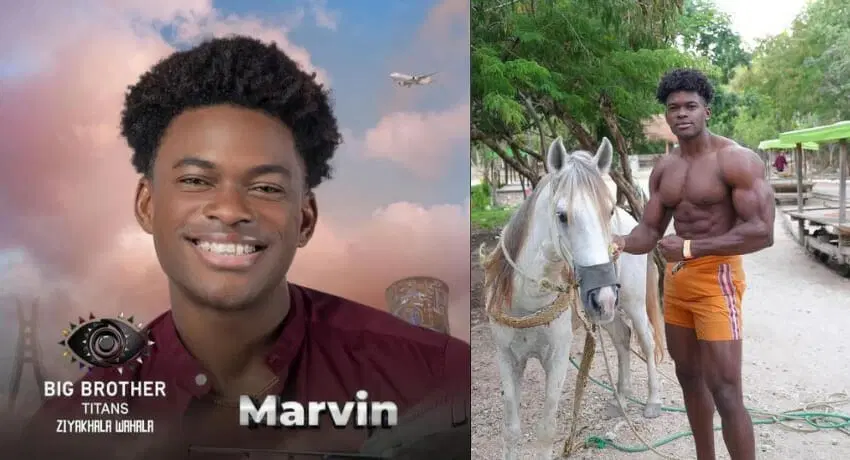 Marvin Achi, one of the newly revealed housemates in the South African reality show Big Brother Titans, has caused quite a stir online after it was discovered that he has appeared in three popular TV shows.
Recall that BBTitans premiered on Sunday night, January 15, with 20 housemates – 10 Nigerians and 10 South Africans – invited to compete for the grand prize.
Marvin, a 29-year-old chemical engineer and fitness enthusiast, piqued the interest of many, who thought his face looked familiar.
Further investigation revealed that he had previously competed in America's Got Talent, Big Brother US, and Netflix's Circle before appearing on BBTitans.
The Port Harcourt born housemate is evidently not new to fame as he has over five hundred thousand followers on Instagram and has been verified as well. He is presumed to be the housemate with the highest following for now.
Reacting, a tweep with the username, Talkyreal wrote: This Marvin boy is a reality show gigolo. From big brother US to America's got talent to the circle on netflix now big brother titans.
@ashleigh_ wrote: Are you serious?????? I only know him from The Circle. When does he get time to be a an Engineer then?
@Nana wrote: I thought it was just the circle
@EfemenaOnovre wrote: Wait wait wait wait??? See me thinking it was just the circle no but what did he do on America's got talent??? Flex I smh
@safieeeeeee wrote: He obviously didn't get the fame he wanted cause I didn't know him before yesterday
@munachim wrote: Love island is next
@sawiiteee wrote: Baba na hustler
@Uk_MoneyBag wrote: He's on the Circle Season 5!
@JennetNadasen wrote: There to add the drama and spice…
@madam12379 wrote: He is everywhere
@CHIGOisCONTAGIOUS wrote: He almost got on big brother us but was removed because they found out he was still on AGT
@Sibahle75849035 wrote: I was watching him yesterday on American's got talent I knew I know him from somewhere
@SeemeSawler wrote: I thought I knew him from somewhere & all your kids telling a story
@ashikodiger wrote: My Junior in High school back in the day. So happy to see him in the House 100
@therealspookie wrote: I knew I had seen him somewhere before, he was on AGT just last year.