15 most influential entertainment journalists in Nigeria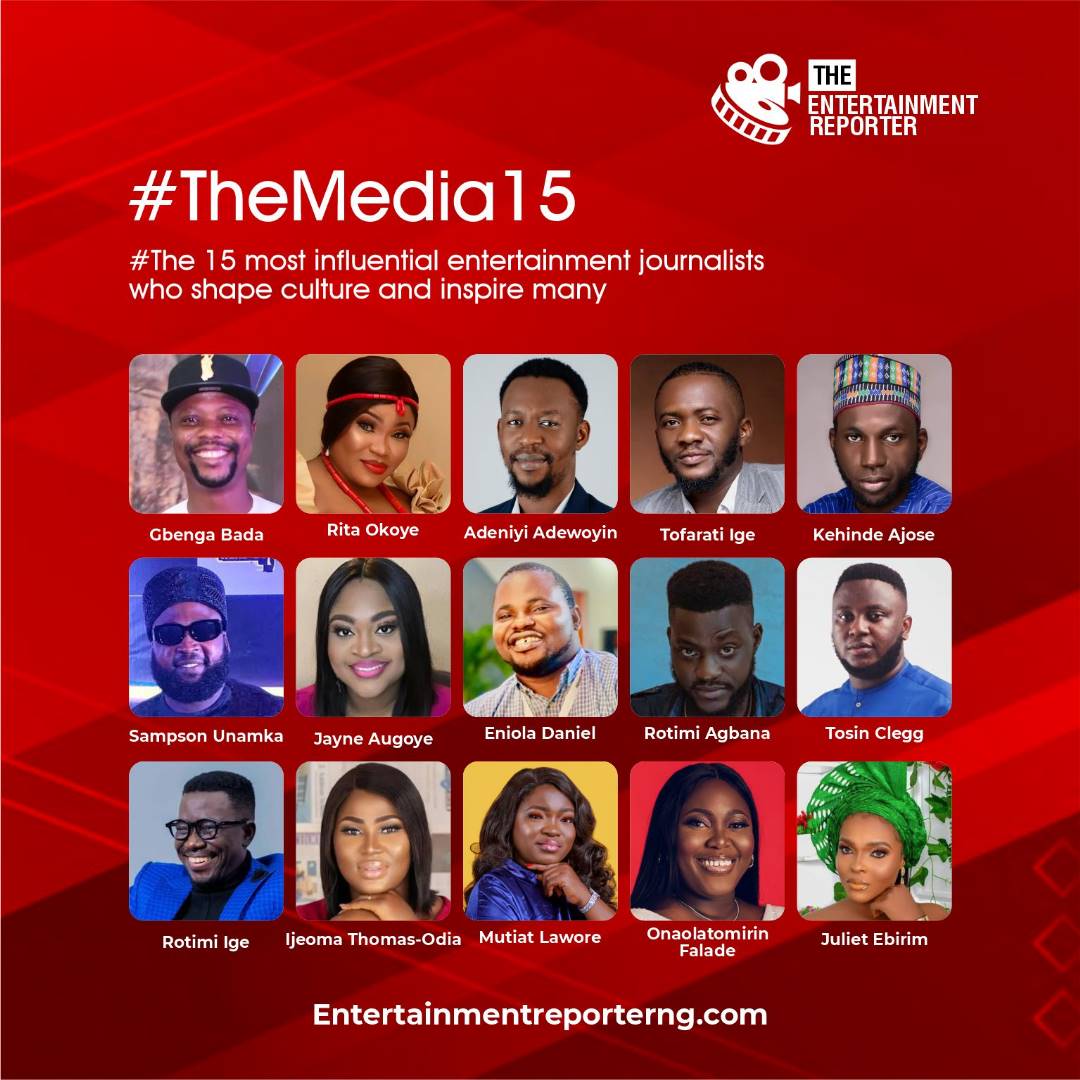 The heart of journalism as the fourth estate and a watchdog of the society creates an unambiguous responsibility for journalists to be equally trained and hard-working as they are upright and ethical. The advent of digital media with its click-bait culture and citizen journalism, has seriously obstructed the prevalence of quality journalists.
Despite this, journalists who showcase outstanding work and dedication and are considered as highly influential in today's media still exist. Below is a list of 15 remarkable names who have shown exemplary commitment to the practice of entertainment journalism in Nigeria.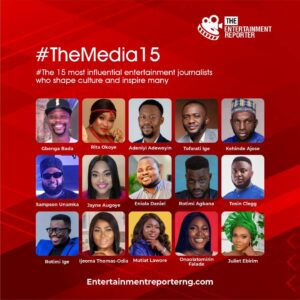 Gbenga Bada
Soft spoken Gbenga Bada is currently the assistant entertainment editor, The Nation (Nigeria), a media consultant and writer. His journalism experience spans over a decade as he has written for the likes of Pulse Nigeria, TheNetng and other revered media platforms. Fondly called Baron Bada, his opinions and insights on the Nigerian entertainment sector are sought by the movers and shakers of the sector.
Rotimi Ige
Bubbly Rotim Ige is the fashionable entertainment editor of Nigerian Tribune. Roy as he is often called by his colleagues is the CEO of Roy Media and an emerging voice in the Nigerian media space. Back in 2021, Ige emerged winner maiden Bigi Nigerian Media Idol, a hangout moment for entertainment reporters.
3 .Jayne Augoye
Beautiful and stylish Jayne Augoye is an award winning entertainment journalist of over twelve years. She also doubles as a parenting coach, blogger and author. Jayne is the arts and entertainment editor of Premium Times Nigeria. She worked under the tutelage of veteran journalists such as Pippa Green and Dele Olojede.
Tofarati Ige
The gifted Tofarati Ige is the lifestyle editor of The Punch. He also doubles as a poet and the author of 'Town crier' and Oriki (Praise poetry).Ige is also a rapper, show promoter and media consultant. 'Tofawriter' as he loves to be called, has an eye for details, excellence and in-depth entertainment reportage.
Adeniyi Adewoyin
Adeniyi Adewoyin is a journalist with vast experience in newspaper publication. He has interviewed top entertainers across Africa. He currently writes for the leading Nigerian news outlet, The Nation Newspaper. In 2022, Adewoyin was selected as an international voter for the 80th Golden Globe Awards which would hold in America, come January 2023. The Oyo state indigene is also a musician who goes by the stage name Neo Phlames and has performed on big stage including Felabration and P'square Live to mention a few.
Kehinde Ajose
Kenni as he loves to be called is a dynamic entertainment journalist with The Punch, editor of The Entertainment Reporter and a visibility strategist. He is also the host of entertainment and lifestyle show 'Celebrity Uncensored'. In 2022, Ajose was honored as 'Africa's visibility strategist of the year' by Africa Honorary Awards. He is also the author of three books including 'Donjazzyfied' a book about Nigerian showbiz personality, Don Jazzy.
Onaolatomirin Falade
Tomi is the Life Editor (Saturday) at Independent Newspapers Nigeria. Among other things, she covers all things lifestyle, arts, entertainment, fashion, tourism and other sister genres. She has a demonstrated history of working in event management, journalism, media relations, corporate communications, with strong ties to the print media community.
Rita Okoye
Enterprising Rita Okoye is a notable entertainment journalist, blogger and publicist. Okoye has spent over a decade in the Nigerian media space and a respected voice in reportage of Nollywood. In 2019, Rita who currently reports entertainment for The Sun emerged Entertainment Writer of the Year at the 13th edition of Nigeria Media Nite-Out Awards (NMNA).
Eniola Daniel
Eniola Daniel is a multi-media journalist with The Guardian Nigeria. The outspoken pen pusher is also a content creator and torch bearer Of press freedom awardee. His opinions and perspectives stir engagement on Twitter NG.
Mutiat Lawore
When Mutiat steps into a place, you can't but notice her energy and personality. Mutiat is an ebullient journalist, hype man, events compere and life of the party. Her influence in the Yoruba sector of Nollywood is inspiring. She currently works as an entertainment reporter with the New Telegraph.
Sampson Unamka
Sampson Unamka is a Mass communication graduate with a bias for print journalism, public relations, A&R, amongst others. With a media career spanning over 8 years, he has reported multiple investigative issues, covered events and news analysis for publication, conducted interviews etc. He also doubles as a photo journalist.
Sampson was the only Nigerian entertainment journalist who attended the 15th edition of The Headies held in Atlanta, U.S.A
Ijeoma Thomas- Odia
Ijeoma is a strong media and communication professional with a Bachelor of Science (B.Sc.) in Mass Communication from Imo State University. The outspoken and innovative journalist has interviewed some of the most influential stakeholders in the Nigerian entertainment industry. 'Aijay' as she is fondly called is also a PR specialist who shares tips on her Instagram page.
Tosin Clegg
Tosin Clegg is a leading entertainment journalist with This Day Newspaper. Tosin who is fondly called 'Sugar daddy of Lagos' is also a talent manager and the CEO of Kosiakoko promotions .The luxury broker derives pleasure in helping budding and established talents get better rewards for what they know how to do best.
Rotimi Agbana
Rotimi Agbana is currently the deputy online editor of Independent Newspapers Limited .Agbana is an experienced journalist with a number of years on the hallowed profession. Having obtained a degree in English & Literary Studies from Kogi State University, Anyigba, he proceeded to obtain series of trainings in journalism/communications. Being an entertainment journalist of repute in the Nigerian entertainment industry, he has worked closely with the likes of Wizkid, Davido, Don Jazzy, Tiwa Savage, Omawumi, etc.
15. Juliet Ebirim
Juliet Ebirim is an entertainment and society journalist of repute. The soft spoken media gal is one of the leading voices in the Nigerian entertainment journalism space .Juliet who currently works with Vanguard Newspaper has interviewed the likes of Simi, Seyi Shay Adekunle Gold amongst others. The chic writer presented an award at this year's Best of Nollywood (BON) awards.
In 2016, Juliet clinched the society writer of the year award at the Nigeria Media-Nite out Award (NMNA)