Patoranking reunites with mum in Qatar after five years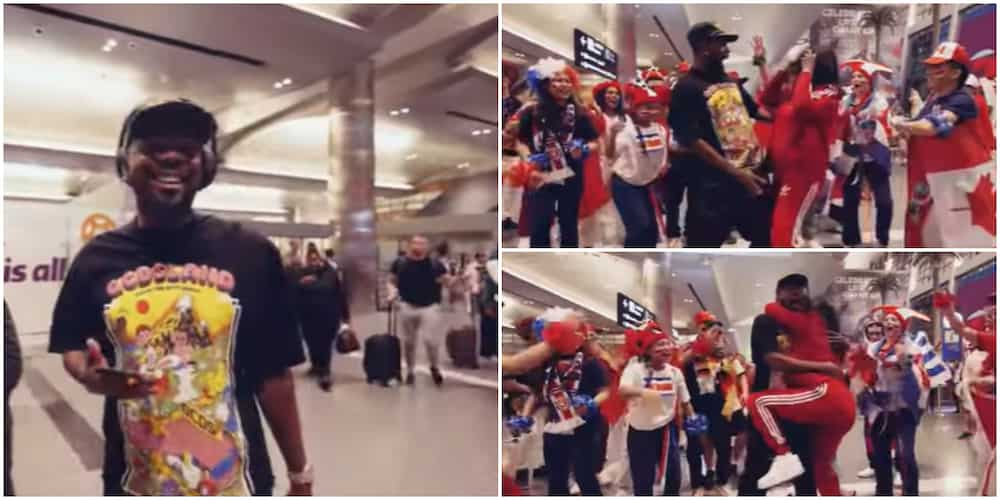 Singer Patoranking has reunited with his mum in Qatar where he will be performing at the 2022 FIFA World Cup.
The 32-year-old announced his arrival in an Instagram post on Sunday nigh where he posted a video, showing the warm reception he got from his fans who organised a dance troupe for him.
While the jubilation over his arrival was going on, the singer's mum surprised him with her presence.
Patoranking who had not seen his mum in five years was overwhelmed with emotions when she came out to meet him as he was dancing with fans.
In the video, the excited mum jumped on her son and locked him in a tight embrace as he stared in disbelief.
After releasing each other from the embrace, Patoranking leaned forward and embraced his mum again with smiles on their faces.
Captioning the video, he wrote: "Landed Qatar to warm reception and a big suprise, Haven't seen my mom in 5 years, she came to surprise me at the airport.They got me on this one see my face at the end."
Patoranking born Patrick Nnaemeka Okorie will be thrilling the audience with his performance on Monday, November 28 at the Al Bidda Park by 6:50 pm Nigerian time.
Others slated to perform include Congolese-French rapper and singer GIMS who would be performing on December 3, British-Jamaican reggae musician, Julian Marley, son of music icon Bob Marley, will be performing on December 8 and music group Clean Bandit will be performing on December 16.
Last week, Patoranking's colleague Kizz Daniel left the audience singing his praises after thrilling over 50 thousand fans with his performance at the festival.
The singer whose dream of performing his hit song 'Buga' at the festival left no stone unturned as he gave his best while performing some of his hit songs.
Kizz started the event with a lovely tribute to music star Fela Anukulapo Kuti bringing back memories of the legendary Afrobeat star whose music has inspired so many African artistes and fans all over the world.
The singer then proceeded with his latest hit 'Cough' also known as Odo, after which he went on to perform 'Buga' which got the crowd screaming as they joined him for the signature Buga pose.
Kizz Daniel also posted clips of his performance at the event on his Instagram page on Wednesday, November 23 where he expressed gratitude to his fans all over the world.
He wrote: "AS A NAIJA BOY SAY THANK YOU AFRICA THANK YOU WORLD."