Bobrisky explains reason for clashing with James Brown, Papaya Ex at event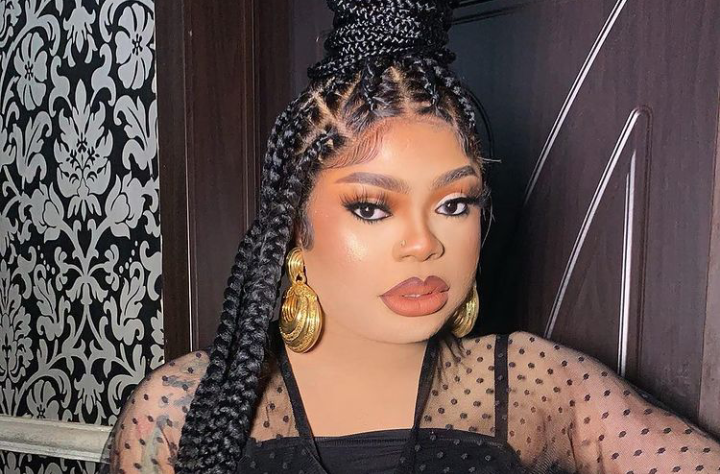 Crossdresser Bobrisky has provided an explanation for his altercation with socialite Papaya Ex and fellow crossdresser James Brown at a Lagos event on Sunday.
Bobrisky is seen throwing a water bottle at James and Papaya Ex in a video that has since gone viral for dancing too close to him.
The 31-year-old then furiously got up from his seat and left, with his friends right behind him.
Bob's actions caused James and Papaya to continue dancing while they seemed unconcerned with them.
Explaining the reason for the clash in an Instagram post on Sunday, Bob said he was angry because the duo was dancing too close to him at the event.
"I was there earlier and I was just pressing my phone, They told me she was coming so I was already ready for her. So they were dancing a cultural dance, it was so trashy, she was entering the party, she now stood in front of where I was sitting down with my friends and she was dancing. I looked around and saw who I can grab first. If you want to dance your rubbish dance, it's not in front of me that you will dance your rubbish dance. I was angry, I wanted to tear her beads and people were holding me. I just carried table water and flung it on her.
"Even the police she came with, the moment they saw me, she thought she could arrest me. Do you think the police will stop me from beating you? When I see you in person Papaya listen to me, any event wey me and you jam I go dey beat you. She later left with her stupid people. All the people she came with. I'm such a classy bitch but at the same time, I also fight."
Responding to him, Papaya also posted a video on Instagram, calling Bobrisky a liar, she also threatened to beat Bobrisky even if it means going to prison.