Shan George debunks rumour of Hanks Anuku roaming streets in tattered clothes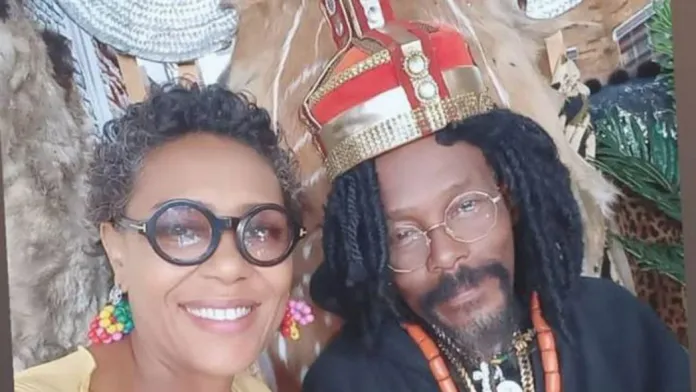 The actress Shan George refuted a rumor that Hanks Anuku was seen wandering the streets in torn clothing.
On Monday, November 14, a video of a man wandering the streets in ragged clothing—many assumed he was the actor—surfaced online.
The unsettling video shows the man, who resembles the movie star physically, looking disheveled and run-down on the streets of Benin.
The man is also heard in public speaking to himself.
Although it is still unknown if Hanks Anuku is the person in the video and whether it was shot on a set, many users have expressed their concerns after seeing the footage on social media.
On Monday night, in response to the rumors, the actor clarified that he is not insane as many people had assumed.
The 52-year-old added that three days ago, they were both on a movie set while also posting photos of himself and the actor at a shooting location.
She wrote: "Nothing dey do Hanks o. We dey same set. This pix is three days ago."
Shan also posted a video of herself and the actor, saying that they were together on a movie set three days ago in Asaba.
She wrote: "Three days ago in Asaba. Hanks is fine O. We are on same set."
Hanks who often stars as a villain in many Nollywod films hails from Ika in Delta State.
He has been featured in movies like Broad Daylight, Formidable Force, My Love, Bitter Honey, Rambo, Jango, Fools on the Run, The Captor and Men on Hard Way.
In June 2020, Hanks debunked a rumour about his death.
The 62-year-old confirmed that he is still alive and advised his fans to disregard the rumour in a video he shared on Instagram.
"I am alive do not listen to them, they are poisonous press vipers and they are not the children of God… God is in charge of my life and not them…," he said.
His sister Rita Anuku, a former Miss Nigeria died in 2015.