Gospel singer Mary Lincoln begs for forgiveness after leaked naked photos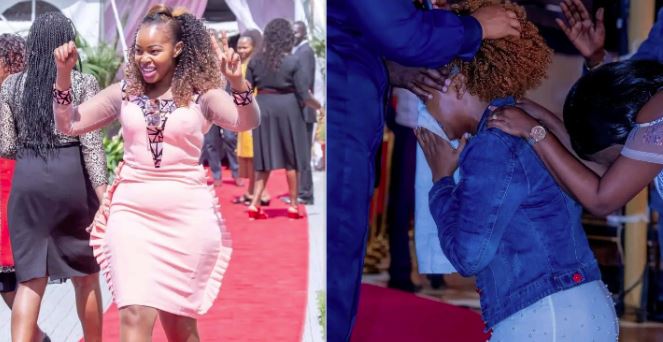 Following the internet leak of her nude photos, Kenyan gospel singer Mary Lincoln pleaded for mercy and requested prayers.
Blogger Martha Mwihaki Hinga, who is well-known for reporting on celebrity scandals and attracting a sizable following, leaked the photos and shared them.
Bishop Michael Wanderi of the Christian Fellowship Foundation (CFF) claims that during the scandal, Mary approached him and begged for his prayers and pardon.
A tearful Mary was pictured at the church in a Facebook post, surrounded by the pastor and others who were praying for the gospel singer alongside him.
Mary was accompanied by several other artistes including Shiru Wa GP, Joyce Irungu, Anne Lawrence, Karangu Muraya, and Judie Masila whom she thanked for the support they offered her during the scandal.
"Thank you God for your love, Bishop Michael Wanderi, and Rev David Mwangi may God bless you Wairimu Muchiri, and all my fellow artists and all friends who have been praying with me, asanteni sana," she said.
Speaking during the prayers, Shiru Wa GP, a gospel musician, asked people not to be judgmental whenever one is faced with a scandal but rather stand with them until they come back to their feet.
"We are all parts of the body of Christ, you are the nose and I am the ear, so do not laugh at the ear because we are not the same and each one of us has a place they play," she said.
Speaking after the prayers, Mary also said she has repented and found mercy in God's sight.
"Yes, we went to the Christian Foundation Fellowship (CFF) Church for repentance and forgiveness prayer. Our God is merciful and offers those who repent a second chance to resume service to him. What is important is that I am now full of renewed energy to continue ministering and spreading the love of our merciful and forgiving God," she wrote.
Mary is the second wife of radio presenter Njogu wa Njoroge. The couple got married in 2020.