How being Fela's son made school tough for me- Femi Kuti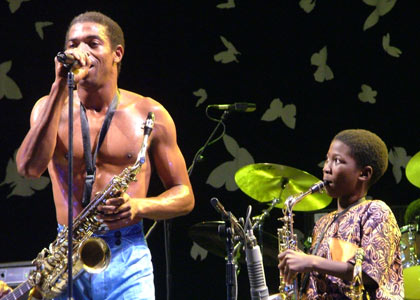 Fela Kuti's son, Femi Kuti, reveals that attending school was difficult for him because of his family's legacy.
The singer discussed his upbringing as one of the late Afrobeat icon's children in an interview with Chude Jideonwo.
Femi claimed that his teachers and colleagues hated him because of the reputation of his father.
"I've had low points. Don't forget that the beatings of my father started when I was a teenager," the singer said.
"Seeing him in prison, seeing his head broken, the blood on him. The school was depressing because you had both teachers that liked and didn't like him.
"If I got in trouble with the one who didn't like him, they beat me just because they didn't like my father. If I don't understand what you're teaching, are you supposed to beat me? They had a vendetta against my father.
"They didn't like me because I was Fela's son. They'd say, 'your father is smoking igbo.' I would retaliate with an insult too. So we would end up on the field fighting. I was always fighting."
Femi said the death of his parents and his tough life shaped him to become a better person.
"If I didn't go through those moments, I'd probably not know what to do with my life. I've experienced death. The passing of my mother was the worst. She was my pillar. I was lost until like three-four years ago," he said.
"I would still wake up wanting to say good morning. I didn't cry because I was expected to be the man. Then my wife goes and they write that Femi is going mad. It was a terrible moment that made me a better person."