Mixed reactions as James Brown dumps women clothing, repackages as man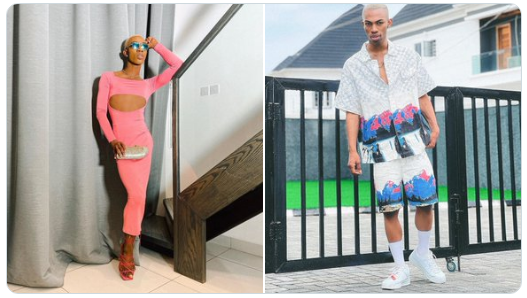 Crossdresser James Brown's new appearance has drawn conflicting reactions.
The 23-year-old who has been posting pictures of himself on social media in a man's outfit also dubbed himself the "prince of Africa."
Days after the sex tape went viral, the crossdresser switched, and he has since been promoting masculine clothing for a specific clothing company.
Reactions to the new look have appeared on social media.
See some of the comments culled from Twitter.
After James Brown taste pussy baba realize there's more to life than being a cross dresser pic.twitter.com/UikQAniYRd

— S T E A D Y (@mogsteady) October 28, 2022
Now that I've granted ur biggest wishes of u all wanting me to become a man….. how do yall feel?? pic.twitter.com/63kQoOe9bG

— JAMES BROWN (Africow Princess) (@wfjames_brown) October 27, 2022
If you don't, you wouldn't be under his comment section tho.??

— #PETER OBI or NOTHING (@PeterOpigo) October 27, 2022
We want princess of Africa back ??

— Deborah (@SympLYDebby21) October 27, 2022
You make it sounds as tho you did us a favor Lol, look at you bro, you look awesome brova, this is who you are but probably refused to embrace it….you growing a beard? It'll look really awesome

Bobrisky you're next!

— ARISHEM ? (@blak_naira) October 28, 2022