Ooni of Ife celebrates 48th birthday after wedding spree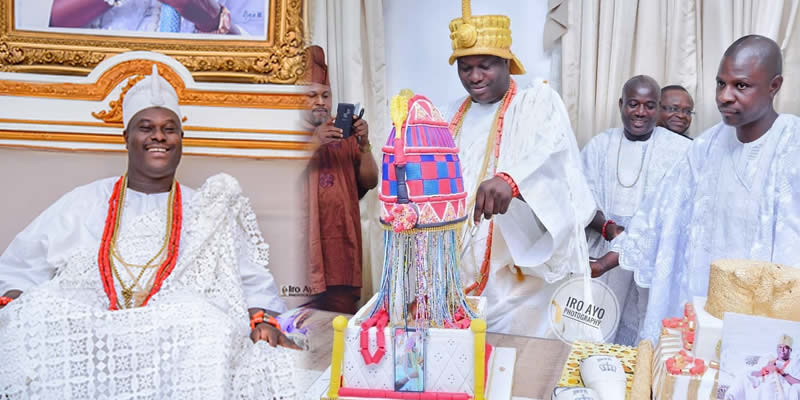 The palace of the Ooni of Ife, Oba Adeyeye Ogunwusi, was lit up with fireworks on Monday morning as the monarch turned 48.
The Ooni entered the room flanked by his wife Olori Mariam nee Anako to greet his subjects, who had put on a magnificent performance in his honor.
The Ooni marveled at the fireworks while saxophonists entertained everyone with enjoyable music.
Moses Olafare, a representative for Oba Ogunwusi, shared a video of the ceremony on Facebook.
"Arole Oduduwa Olofin Adimula Ooni Adeyeye Enitan Ogunwusi is a year older today," he wrote.
The monarch's 48th birthday crowns his recent wedding spree. In the last one month, the Ooni of Ife has married four women namely Mariam, Elizabeth, Tobi and Ashley.
Olafare recently said that at the "appropriate time" the palace would speak on the weddings if need be.
On Sunday, October 16, the Ooni and his wife Olori Mariam held a thanksgiving service following their wedding last month.
The thanksgiving was held at the Ooni of Ife's Palace.
Olori Mariam, who is from Ebira ethnic group in Kogi State, was traditionally married to the Ooni on September 6.
Prior to marrying the first-class king, she worked at Nestoil Limited, an engineering, procurement, construction and commissioning company in the oil and gas sector.
Mariam lost her father at a young age and was reportedly brought up in the home of the former inspector general of police Mohammed Abubakar. Her mother is a retired police officer.
The Ooni and Olori Mariam attended the annual Olojo Festival together in Ile-Ife, Osun State last month.